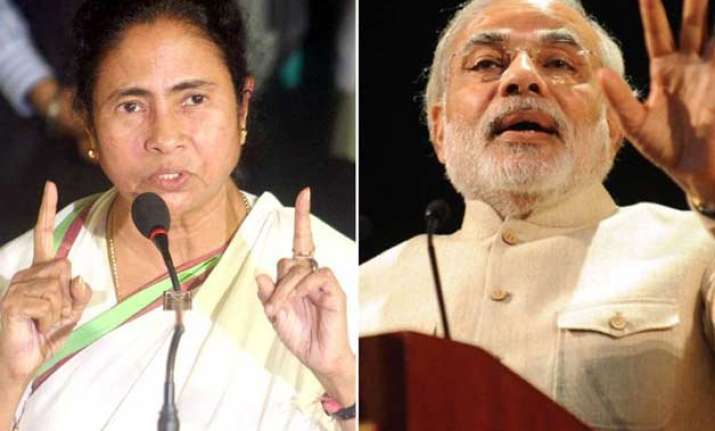 New Delhi: West Bengal Chief Minister Mamata Banerjee today met Prime Minister Narendra Modi in the Parliament.
During the meeting, Mamata, who was also leading a delegation TMC MPs, raised the debt problem that the state was facing, most of which was a result of the actions of past governments.
She said that this debt burden, leading to high interest payments, was affecting development expenditure in West Bengal. She asked for debt relief and relief from interest payments.
She also expressed concern about pending releases.
We have informed the Prime Minister about economic situation of West Bengal. The Prime Minister has taken it into consideration. We requested him to give us relaxation in debt, as many of our projects in West Bengal are still pending," she said.
"Prime Minister agreed that West Bengal is under maximum debt and has shown financial discipline despite of this... He assured us to look into it," she added.
The Prime Minister explained that he is a firm believer in cooperative federalism i.e. only strong states can make a strong India and therefore, states must be strengthened to meet development needs of their people.
Modi said that he is fully committed for West Bengal's and Kolkata's development.
"West Bengal and Kolkata have to develop, for their own sake, and for the benefit of the region. That is why we have the Act East policy. The region has talented people and a lot of resources," he said.
The Prime Minister also pointed out that, the Central government has decided to give West Bengal the royalty on coal and other minerals. This will provide a benefit of Rs 1,600 crore to the state annually. In addition, West Bengal will get Rs 11,200 crore from the coal blocks that have been auctioned so far and there will even more revenue in future.
On the issue of releasing funds under MNREGA, the Prime Minister assured that this scheme is fully provided for. West Bengal has already received Rs 3,744 crores this year and pending claims of Rs 1,500 crore will be settled in March itself.
The Prime Minister said that no stone will be left unturned for the development of West Bengal.