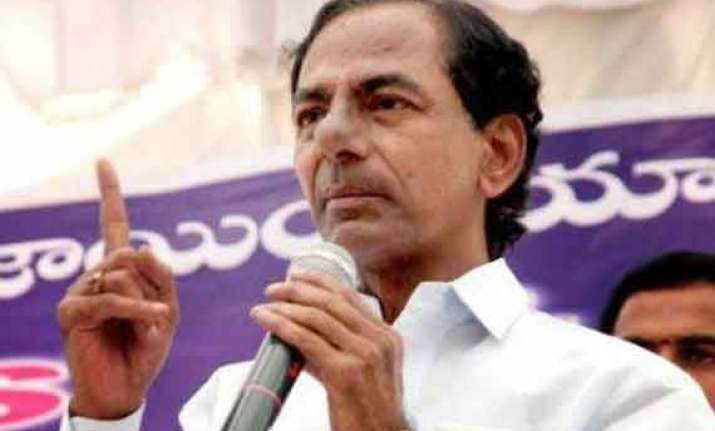 Hyderabad: Telangana Chief Minister K. Chandrasekhara Rao Monday said Hyderabad need two more airports in the near future as the city's population was expected to triple to three crore with the development of proposed Information Technology Investment Region (ITIR).
He asked the officials to prepare an international standard master plan for the city with two more airports, satellite townships in 100 km radius, another outer ring road, rapid rail and metro connectivity.
Addressing ministers and top officials here, he said the existing GMR airport in the south Hyderabad has direct flights to many countries.
"In the coming days we need hundreds of flights. Hyderabad has the advantage. It has the potential to become a hub between east and west. The city can absorb any number of airports," he said.
KCR, as the chief minister is popularly known, said Hyderabad need airports in northern and southern parts.
He said the central government would spend Rs.6,000 crore to 10,000 crore on providing infrastructure for ITIR. The project is expected to attract investment of Rs.2.13 lakh crore.
This was the first such interaction KCR had with officials since he assumed office as the first chief minister of Telangana June 2.
KCR said he would not be surprised if Hyderabad became biggest city in the country with three crore population and floating population of another 50 lakh in three to four years.
Addressing the workshop on "Re-inventing Telangana", he said the state had 39 percent urbanization which could soon become 50 percent.
"With this, Telangana can be number one urbanized state in India. The advantage is inter-dependent life and more employment opportunities. The world is going towards urbanization because there will be less of vulnerability," he said.
Blaming the faulty policies of the previous government for congestion in Hyderabad, the chief minister stressed the need for decongesting the city with the development of satellite townships and industrial clusters along the outer ring roads in 100 km radius.
He said the government would be firm in maintaining law and order and promised to provide an investor-friendly atmosphere.
KCR said the master plan for the city need to take into account long-term requirements for water, drainage, transport and other infrastructure.
He said the city had a poor drainage system as the natural drains like Musi River and Hussain Sagar lake were destroyed due to encroachments and allotment of lands to private parties by the previous governments. He directed officials to take steps for their protection.
Pointing out that there are 58,000 unauthorised constructions in Hyderabad, he said he had already asked officers to take action against violations.
"There is no need for others to worry," he said and alleged that a section of media and political parties were making false propaganda.
KCR, also the Telangana Rashtra Samithi (TRS) chief, said Hyderabad and the whole of Telangana need to be regulated in all sectors. He made it clear that there will be no room for irregularities and reiterated that there will be zero tolerance for political corruption.
Highlighting the priorities of his government, KCR asked all departments to come out their plans in the context of Telangana taking in account the problems and requirements of the region.
Reiterating that the TRS will fulfill its poll promises, he said the government would soon take a decision on waiver of farmers' loans and housing scheme for poor.
Stating that there were irregularities to the tune of Rs.235 crore in the previous housing programme, he said those involved would be sent to jail.