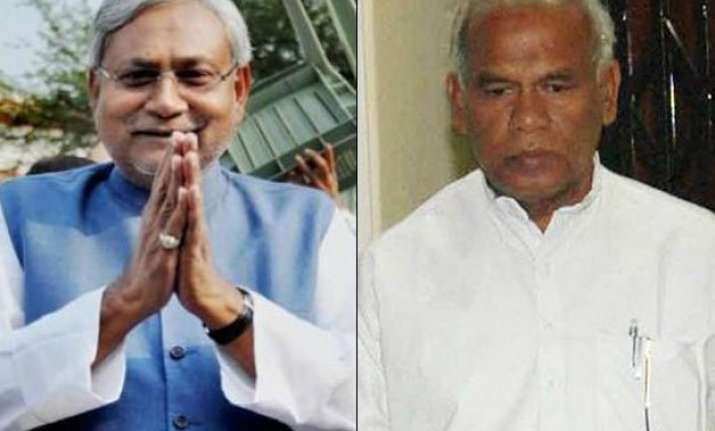 Patna: A day before the budget session, JD (U) and RJD held a meeting with the legislators on the eve of Nitish Kumar trust vote and told them to vote for the motion.
Former Bihar Chief Minister Jitan Ram Manjhi has however, asked the RJD Chief Lalu Prasad Yadav to withdraw his support from the Nitish camp and with this confirm that 'he cares for the poor'.
Although Manjhi is no more a part of JD (U), however in order to retain his membership, he will have to follow the whip protocol.
As published in Indian Express, JD (U) chief whip Shravan Kumar said "Manjhi will be treated as unattached member of the JD (U) and the whip will be very much applicable to him. Nine other rebels have also been given the notice."
This has led to a stalemate situation for the Manjhi camp which either has a choice to vote against Nitish Kumar or walk out of the Assembly.
Sumit Kumar Singh, a Manjhi camp MLA, said: "We have not done anything so far to lose our membership. We will decide what to do during trust vote."
Kumar, who claimed support of 130 MLAs, including 24 of RJD, five of Congress, one of CPI and one Independent, needs the support of 117 MLAs in truncated House of 233 members in place of its original strength of 243. Now that JD (U) has issued the whip, 10 rebel MLAs siding with Manjhi would lose their Assembly membership if they vote against the CM.
It is learnt that BJP will also oppose the trust vote which will be soon after the governor's speech with its 87 members.
Nand Kishore, a BJP leader said that the party will attack the JD (U) government over poor law and order, political instability and lack of governance since NDA split.
Meanwhile, the RJD legislature party leader Abdul Bari Siddiqui said that they would defend the government when required but would surely engage in constructive criticism on matters of people's concerns.