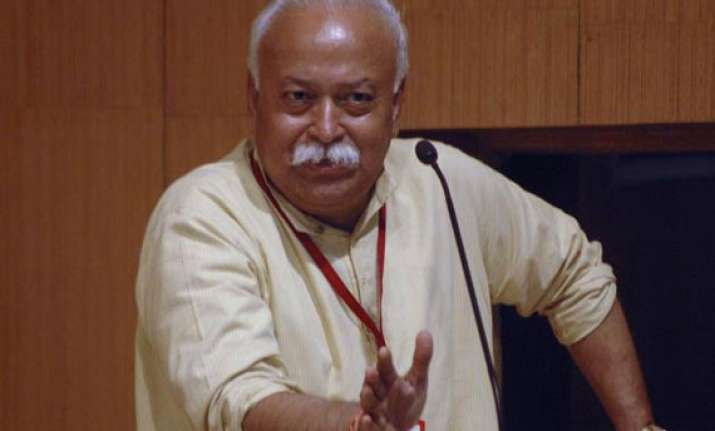 New Delhi, June 15: As JD(U) appears set to part ways with BJP over Narendra Modi issue, Rashtriya Swayamsevak Sangh has said his appointment as Election Campaign Committee head does not mean he is the Prime Ministerial candidate.
In its latest issue, RSS mouthpiece Organiser said "arm-twisting" of BJP by JD(U) on Modi's elevation is not good for the country and emphasised on the need for the NDA to remain united in order to oust the Congress-led UPA.  
"The BJP so far has only declared Modi as chairman of a forum and surely not a Prime Ministerial candidate. In this situation, the arm-twisting by JD(U) is not good for the country," the editorial of the RSS weekly said.  
Significantly, this observation has come days after L K Advani quit from all organisational posts of BJP in protest against Modi's elevation at the Goa conclave. He withdrew his resignation only after RSS chief Mohan Bhagwat assured him that his concerns will be looked into.
"Undisputedly, the question of declaring Prime Ministerial candidate does not arise at this moment, as the polls have not yet been declared," Organiser said.  It further states that there is a need for JD(U) to stay within the NDA fold.
"There is sufficient time to declare a Prime Ministerial candidate and the decision will naturally be taken at an appropriate time after consultation with all parties concerned," the RSS mouthpiece said.
 The editorial, however, showered praise on the Gujarat Chief Minister and said all recent opinion polls show he is the most popular face for the post of Prime Minister, followed by a long distance by Rahul Gandhi and Manmohan Singh.