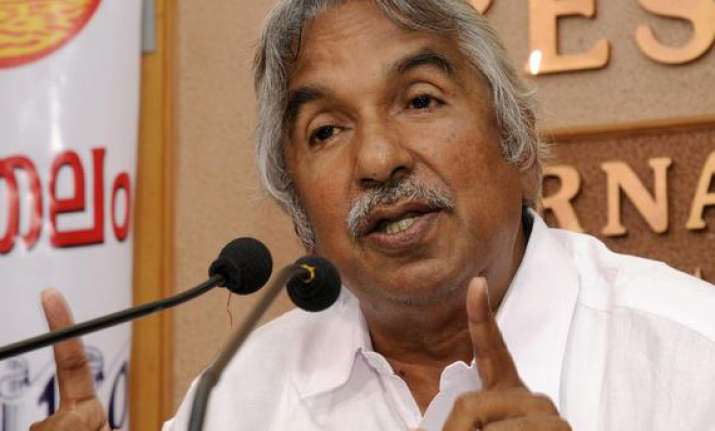 Thiruvananthapuram: Has Kerala Chief Minister Oommen Chandy weathered the storm created by the solar scam in the state? That is the question many are asking after the Left opposition accepted the offer of a judicial probe into the matter.
The Left had earlier announced that its indefinite "siege" of the state secretariat here that began Monday would continue till Chandy quits and orders a judicial probe.
Just 24 hours after beginning the protest, as 22 companies of central forces were kept on stand-by in case of trouble, the Left took up the chief minister's offer of a judicial probe into the scam.
Observers were baffled by the alacrity with which the Left accepted the offer since the chief minister had previously also offered a judicial probe. Besides, Chandy's office, which had been in the thick of the controversy, would also not come within the ambit of the probe.
Late on Tuesday night, as IANS asked the chief minister when he expected the next round of protests as announced by the Left to begin, Chandy said: "We will take it as it comes. That has been the policy so far."
He was also heard answering several calls on his mobile phone with: "Thank you, thank you very much for your support."
Chandy, who had been on tenterhooks for the past two months after the solar scam broke out, appeared relieved.
The scam has seen one member of Chandy's personal staff land in jail; two others lost their jobs for alleged links with the fraudster couple, Saritha Nair and Biju Radhakrishnan, who cheated several people of large sums of money on the promise of installing solar panels and wind mills at a discount.
It is estimated that about Rs.7 crore was invested in the firm run by the couple.
Former finance minister and senior leader of the Left opposition in the state, Thomas Isaac, said: "One phase of our campaign is over. We will not rest till Chandy quits."
Chandy, however, said it would be business as usual for him, as there were pressing issues to deal with -- the price rise, which, coming ahead of the state's major festival, Onam, could prove a major dampener to festivities; there are development projects to be expedited. In rain-hit districts of the state, relief and rehabilitation efforts must occur without delay.
Political analyst and a legal expert S. Jayasankar, speaking during a discussion on a TV news channel, said a judicial probe would prove an exercise with no impact - previous judicial probes point to such an outcome, the most famous of which was the Justice Srikrishna Commission judicial probe into the Mumbai riots of 1992-93, which had indicted political leaders and police officers.
One ardent fan of Chandy who did not wish to be identified said: "In his constituency at Puthupally (in Kottayam district, from where he has been winning every election since 1970), numerous Christian places of worship sent up prayers for the chief minister."