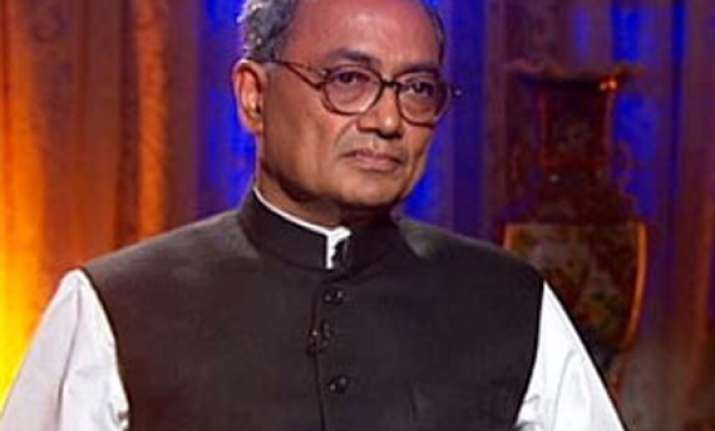 Bhopal, Jun 29:
Congress leader Digvijay Singh today sought Team Anna's cooperation in getting answers to questions raised by the party related to assets and Income-Tax raids on two businessmen who are said have to close links with ruling BJP in Madhya Pradesh.
Offices and residences of the businessmen, Dilip Suryavanshi and Sudhir Sharma, were raided by I-T authorities last week. While Suryavanshi is a builder and road contractor, Sharma is a mining magnet.
Leader of Opposition in Assembly Ajay Singh has come out with a set of 11 questions related to the raids and wealth accumulated by the duo, and sought their answers from Chief Minister Shivraj Singh Chouhan. These queries are in form of newspaper advertisements.
Digvijay, in a letter to social activist Anna Hazare, said the questions had been directed at Chouhan, but since the Gandhian was fighting against corruption, he and his team should help in getting their answers from the Government.  "I do not hope to get any reply from Chouhan," the former Chief Minister said.
The Congress General Secretary said Suryavanshi and Sharma have accumulated massive wealth during the eight years of BJP rule in the State.
If Hazare and his team assist in getting replies to the queries raised by the main Opposition party, people of Madhya Pradesh would support the social activist and his credibility would go up, Digvijay maintained.  
Among other issues, Ajay has sought to know if Chouhan had any links with Suryavanshi whose business turnover went up from a mere Rs 13 crore to a whopping Rs 5,000 crore since 2003 (when BJP came to power in MP).  
He also asked Chouhan to explain how Suryavanshi, who owned 12 dumpers in 2003, now has 1,820 trucks.