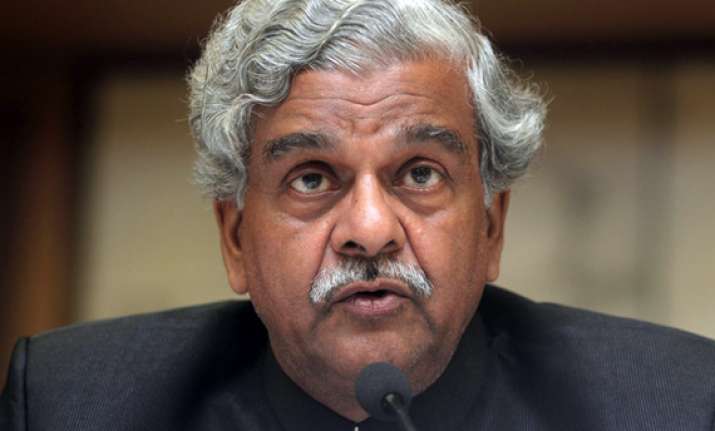 New Delhi, Feb 9: A day after the impressive turnout of about 64 per cent electorate in the first phase of Assembly elections in Uttar Pradesh, Congress today exuded confidence of forming the next government in the state on its own.

"We are getting 200 plus seats in the 403-member House and will form the government on our own," Union Minister and Congress leader Sriprakash Jaiswal said. 

Jaiswal said Rahul Gandhi, who is leading the campaign to bring the party back to power in the state, will monitor the functioning of the party's next government. 

"Whoever becomes Chief Minister, the remote will be in Rahulji's hands," he remarked.

Asked whether he means that Rahul will remote-control the next government in Uttar Pradesh if Congress comes to power there, he said, "Rahulji has made his promises to the people. To fulfil those promises will be the responsibility of whoever becomes Chief Minister."

He said, "Rahul will show his skills in next five years and will be monitoring whether those promises are being fulfilled or not."

Jaiswal said Rahul's vigorous campaigning has ensured that youths come out to vote. He claimed that Congress has got almost 15 per cent youth votes of the state. 

The Union Minister also expressed confidence that Congress efforts to woo the mahadalits and most backward classes will bear results.

An impressive 62 to 64 per cent turnout was yesterday registered in the first phase of Assembly elections in 55 seats of 10 districts in UP.

If one community—be it among dalits or backwards— is not coming out to vote for us, other communities will definitely support us," Jaiswal said in an apparent reference to Mulayam Singh Yadav's support base among the Yadavs and Mayawati's base among the Jatavs.

Congress has been in political wilderness in UP for last 22 years, in the wake of the 'Mandal' and 'Mandir' upsurge. 

Its revival started in 2009 Lok Sabha elections when Rahul led the party to secure 22 seats out of the total 80 seats. 

The party has not projected any chief ministerial candidate in UP, and Jaiswal's statement about larger role of Rahul Gandhi in UP politics was seen as an attempt to make up for the absence of a 'face' in the keen tussle. 

His remarks have also come at a time when Congress has declared that it will have no truck with any political party in the post-poll scenario.

There was a growing perception earlier that the party would tie up with the Samajwadi Party in UP after polls if there is a hung verdict.