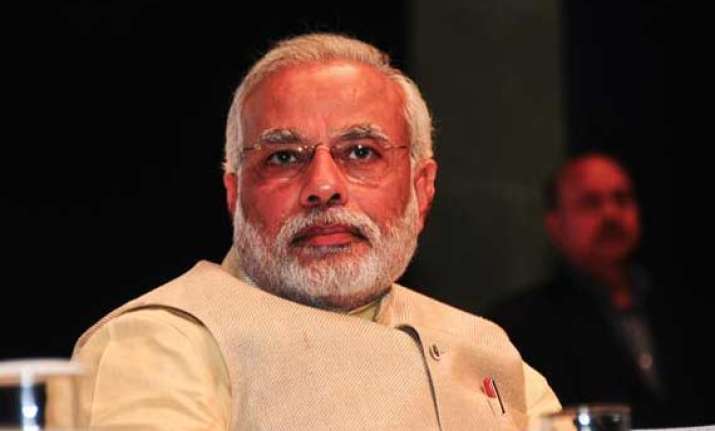 New Delhi: Latching on to the CAG report on Gujarat during his tenure, Congress will seek to corner Prime Minister Narendra Modi government in Parliament next week.  An indication to this was given by party spokesperson Abhishek Singhvi who insisted that the CAG report on Gujart is not a state issue and it affects the whole nation.
"CAG issue is a very serious issue. Issues like bugging, which the government has so far refused to discuss, has consumed much of our time. But we will raise it," Singhvi said accusing Modi for "benefiting select corporates" in the state when he was Chief Minister.
Releasing a six-page document at the AICC briefing, which carried findings of the CAG report, the Congress spokesperson said that the CAG has "slammed" the Gujarat government in five different audit reports.
Asked how can an issue concerned with an state raised in Parliament, Singhvi insisted that it is not a state issue but "national issue" as it concerns "severe mismanagement of state's financial resources amounting to Rs 25,000 crore" and also because the CAG is a Constitutional body.
 "The audit watchdog points out that the state's fiscal liability (or debt burden), which was around Rs 50,000 crore during BJP-ruled Keshubhai Patel regime rose astronomically after the Narendra Modi government took charge. According to the CAG, it rose to Rs 1.05 lakh crore in 2008-2009 and was Rs 1.66 lakh crore in 2012-2013," Singhvi said.
He said this way, the debt of Gujarat cannot be paid back two, three or four generations even as "Modi talks about internal resource generation in his meetings".  Singhvi rued that when Congress MLAs tried to raise the issue of CAG report in Gujarat assembly, they were suspended and a debate was not allowed.
The CAG in its report has come down heavily on the then Modi-led Gujarat government for financial mismanagement of resources and benefiting selected corporates in the state.