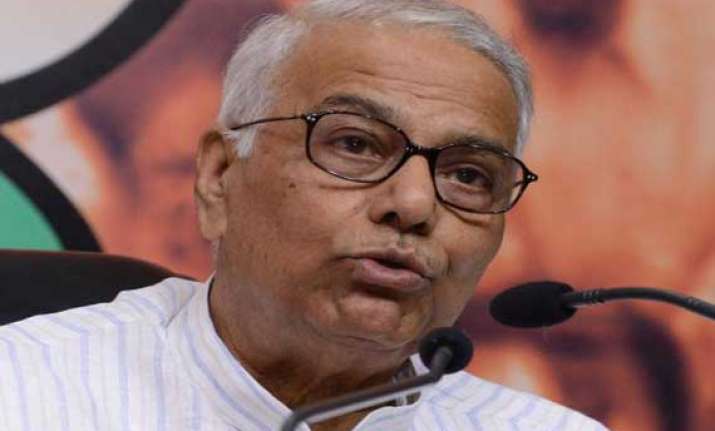 New Delhi: BJP on Monday attacked UPA for leaving the economy in the "worst" crisis" and said it was committed to a simplified tax regime and will, if voted to power, try to hasten implementation of Direct Tax Code and Goods and Services Tax after a consensus among states.
"We are committed to simplifying the tax system - direct and indirect and therefore, we have always said that we will be critically examining the Direct Tax Code and the GST Constitutional Amendments Bill by getting a consensus among the states and try and hasten the process of DTC. "We are quite confident that these two major tax reforms, if they are carried out by us, it will lead to better tax compliance and our receipts will go up," BJP leader Yashwant Sinha said, adding a simplified tax regime will lead to higher collection of taxes rather than reduced receipts.
Attacking the Congress-led government, he charged UPA is leaving an economy which is in "worse crisis than even the earlier crisis in 1991 and 1998".
"It will be a major challenge for the new government to deal with it when it assumes office," Sinha said.
He also attacked Finance Minister P Chidambaram saying he has not projected the right picture in maintaining the fiscal deficit at 4.6 per cent and accused him of resorting to "tax terrorism".
In a sharp retort to Chidambaram's attack on him who had termed him as the "worst" Finance Minister ever, Sinha, who had been a Finance Minister in NDA government, said "Chidambaram will have to be reborn to match my record in the Finance Ministry."
Listing out the "loopholes" in Chidambaram's projection, he said the expenditure has been savagely cut and termed it as a "mindless" reduction of expenditure and accused the tax administration of becomming "extortionary" by seeking advance tax from tax payers.