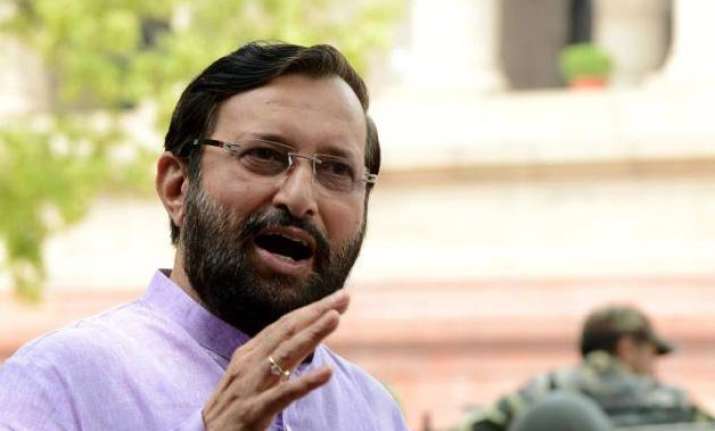 New Delhi:  Union Environment Minister Prakash Javadekar today assured to extend "all out help" to Andhra Pradesh in building its new capital saying his ministry will not be a road block but act as a facilitator and have special forest appraisal committees to fast track the process of necessary approvals for the purpose.
Andhra Pradesh Chief Minister N Chandrababu Naidu met Javadekar in the presence of Civil Aviation Minister A Gajapathi Raju and MoS Science and Technology Y S Chaudhary to discuss the modalities for setting up the new capital at Amravati between Guntur and Vijaywada.
Javadekar said his Ministry, if necessary, can denotify the forest land as per the state government's aspirations.
"There is a clause (in the AP Reorganisation Act) itself that if necessary the required forest land can be denotified. If Andhra Pradesh government decides to go that way, we will support it. We will have special forest appraisal committees to assess these proposals sooner. We will fast track this project," Javadekar said after the meeting.
He said that AP Reorganisation Act states that the Centre will facilitate creation of new capital.
"We today discussed all modalities. We will in letter and spirit facilitate the creation of the new capital of Andhra Pradesh at Amravati," the Minister said.
Noting that there were 42 forest blocks which were not dense in nature, Javadekar said, his Ministry would also accept hard copy of application of proposals for approvals.
"There are 42 forest blocks which are not dense forest. Much of it is degraded. We have decided that instead of online, they (the state) will submit hard copy and we will accept it," Javadekar said.
Noting that the Centre was with the state government, the Minister said it will be ensured that there was no delay from the end of his Ministry.
"It's a great beginning for the state of AP. We will give all out help to state government in the creation of the state capital. Environment Ministry will not be a road block but a facilitator. There will be more greening. Whatever forest land is given for capital, more greening will be done," he said.
Meanwhile, Naidu said that he was hopeful that the Ministry will take a decision soon on the basis of merit.
"I requested him (Javadekar) to give forest land for the construction of new capital. It was mentioned in the Act as well. Ministry was favourable. They will examine everything. Within short time, they will take decision on the basis of merit," he said.