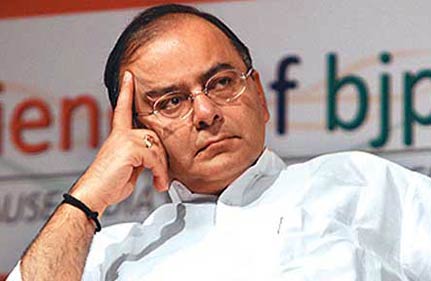 New Delhi, Nov 20: BJP and Left today said they wanted a "civilised" debate in Parliament on corruption but would not give up their demand for a Joint Parliamentary Probe into the 2G spectrum allocation until Prime Minister Manmohan Singh gave a positive response on the issue.
Addressing the Hindustan Times Leadership Summit, BJP leader Arun Jaitley and CPI(M) politburo member Brinda Karat said they wanted a debate on corruption in Parliament, but the Government should agree for a JPC probe.
"I would like to see one (a civilised debate in Parliament on corruption) if the Prime Minister makes a positive response (to our demand for a JPC probe)," Jaitley, the Leader of Opposition in Rajya Sabha, said.
The BJP leader was replying to a question on whether the opposition wanted to debate the issue of corruption or preferred disrupting Parliament.
Asked whether the Left would agree for a "civilised debate" in Parliament, Karat said if a debate takes place on corruption, it would definitely be "civilised".
She, however, maintained that the only way out for the Prime Minister to break logjam in Parliament was to agree to a JPC probe.
BJP has been demanding that a JPC probe should be ordered to investigate the 2G Spectrum allocation, Adarsh Housing Society and Commonwealth Games scams. The Left parties want a JPC probe into 2G Spectrum allocation.
Jaitley alleged that Singh had a "very poor track record" when it came to penalising the corrupt.
"This government had created an infrastructure of corruption with the dubious appointment in the Central Vigilance Commission and by misusing the CBI," he said.
Jaitley claimed that the opposition protest was a "legitimate parliamentary practice" but said if the government felt just holding a debate on corruption and then moving on was the way out, then it has "not been able to understand the Opposition".
"In 2009, the Parliament had debated the 2-G Spectrum scam for three days," he said, adding, "those involved in corruption must go to jail."
Karat reiterated that the Left parties were against disruption of Parliament but were left with little choice.
"Parliament is being disrupted by the government when it is defending the indefensible," Karat said.
Both leaders maintained that the 2G Spectrum issue had been raised in 2008 itself and it was due to pressure from their parties that a CBI probe was ordered.
"One and a half years ago, my party raised this issue but got no answer from the government... Why did the minister (then Telecom Minister A Raja) not resign earlier?" Karat asked.  PTI