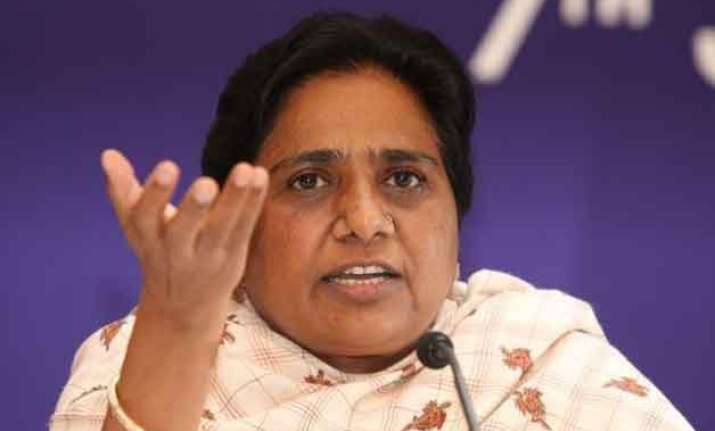 Lucknow: BSP supremo Mayawati today alleged that Shiv Sena's demand to revoke voting rights of Muslims was on the instance of BJP.
"Shiv Sena's statement that voting powers of Muslims should be revoked to stop vote bank politics is unconstitutional. It said it on the instance of BJP," Mayawati said at the occasion of anniversary celebrations of Dr Bhimrao Ambedkar here.
She also said if BJP was not behind the satement made by Shiv Sena, it (Sena) should be shown an "outside door" to the from the NDA government at the Centre.  Shiv Sena courted controversy by demanding scrapping of voting rights of Muslims, saying the community has often been used for vote bank politics, evoking sharp reactions from several political parties which accused it of trying to inflame passions and divide people.
Mayawati also attacked opposition parties, including Congress and BJP and termed them "anti-Dalit". "The love of Congress, BJP, and SP for Baba Saheb is politically motivated," she alleged.
The BSP supremo said that Congress got Dr Ambedkar defeated in first Lok Sabha elections in 1952 using money power and that if there would have been "little respect", Congress should have ensured he got elected unopposed.  
Mayawati also said that Congress which ruled the country for maximum time after independence, did not confer Bharat Ratna to Dr Ambedkar and he was given the honour in 1989 by the then V P Singh government.
She claimed that it was due to BSP's conditional support that the V P Singh government implemented Mandal commission report.
Mayawati, who has been demanding for the highest civilian honour for Kanshiram, cautioned the Dalits that the Central government may confer Bharat Ratna to BSP founder and also declare Baba Saheb's bungalow at Delhi as a memorial before Uttar Pradesh assembly elections, in a bid to lure the community.