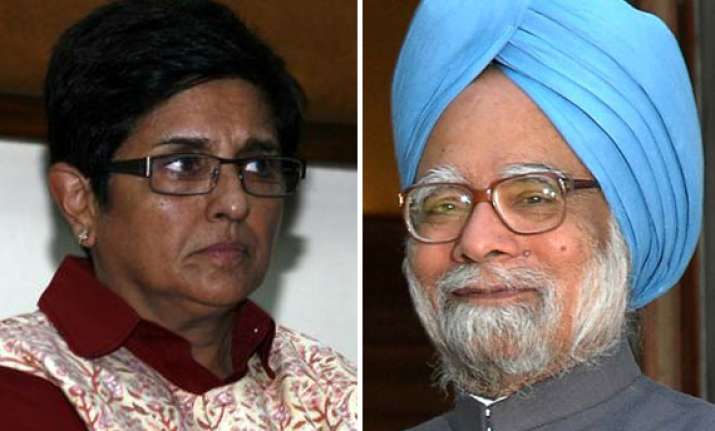 New Delhi, Jun 10: Team Anna member Kiran Bedi today invoked the character of Dhritarashtra in Mahabharata to attack Prime Minister Manmohan Singh and alleged his "tainted team" will not give a strong criminal justice system, inviting a sharp rebuff from Law Minister Salman Khurshid who said the "personal campaign" will not work.
BJP also jumped into the war of words supporting Team Anna's demand for a probe into the allegations of corruption against the UPA government, saying it is natural that the "taint" reaches Singh though he is honest as he is the leader.
"PMO clears Prime Minister. Did Dhritarashtra inMahabharata not support Kauravas even after they attempted to disrobe Draupadi? Indian genes/culture? Or?," Bedi tweeted.  She said Team Anna is focussed on the party in power at the Centre because it alone can give an effective central law not opposition.
The flare-up came a day after Prime Minister's Office rejected Anna Hazare's demands for setting up a Special Investigation Team for probing corruption allegations against Singh and his 14 Cabinet colleagues and setting up a fast track court to take up corruption cases against MPs.  Minister of State (PMO) V Narayanaswamy also yesterday alleged that Hazare was surrounded by "anti-national elements" and supported by "foreign forces".
"Do or Die fast from July 25 for SIT probe on PMლ Cab Ministers. Tainted team may never give us an expeditious and strong criminal justice system," she alleged, a day after she termed the PMO letter as "absolutely wishy-washy".  
Reacting to Bedi's tweets, Khurshid said "we all felt they started off with a good idea. Idea of containing corruption and questioning corruption was a good idea.
But today, they are doing greatest disservice to this idea by converting it into a personal campaign and personal ambition.  "I will quite confidently say that the country will give them a suitable answer when the time comes," Khurshid said.
The civil society members must first answer the questions of irregularities committed by them, Khurshid said adding he did not think the members of the Team Anna "are being very helpful and very good to democracy in our country."
Alleging that the Team Anna members have never asked for a probe against themselves, he said, "we are at least subject to public scrutiny. Every five years we go through an election. People reject or accept our record and everything is there available and we are willing for any public scrutiny".  
"There are many many questions they must first answer. I don't think they have the right to ask questions and I don't think they are being very helpful and very good to democracy in our country," he said.
He said the Government has its own methods of keeping a check on what is happening in the country but I have not heard Team Anna ever having said they are willing for a probe. 
He asked the civil Society members what they have done or what they are doing and alleged that Team Anna members are "screaming and shouting" in an attempt to beat the Government.
Demanding probe into the allegations against the ministers, BJP leader Mukhtar Abbas Naqvi said, "nobody suspects Prime Minister Manmohan Singh. But the way in which his government is drowned in corruption and scams. So it is natural that the taint reaches him also. It is unfortunate but it will happen."
"...this war of words between civil society and government should end. The government should order an investigation," he said.