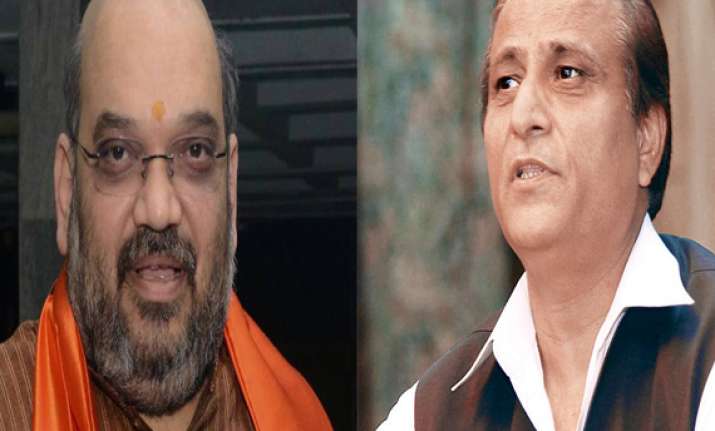 Rampur (UP): Hitting out at Election Commission for lifting the ban on BJP leader Amit Shah, UP Minister Azam Khan today said he will move the Supreme Court against the poll panel's order barring him from campaigning in the state.  "Can any commission be above the Supreme Court.
The Election Commission (EC) has a misunderstanding that its arbitrary powers can't be challenged in any court," the Samajwadi Party leader, who was banned along with Shah on April 11 from campaigning in the state for allegedly making provocative speeches, said at a press conference here.  
The EC, however, yesterday allowed Shah to campaign in Uttar Pradesh after he assured the poll body that he would not disturb the public tranquillity and law and order.  Asking why he was not given similar relief, Azam told reporters, "A criminal, an assailant and a murderer of humanity, whose entry into Gujarat has been banned by Supreme Court, availed freedom to campaign whereas the voice of a person whose entire community is a victim and who has a spotless character has been crushed".  
Accusing the EC of acting at the behest of Congress and "ignoring the high ideals and impartial practices as provided in the Constitution", he said, "I shall approach the apex court and believe I will get justice".
"The action of the Commission reeks of undeclared Eemergency.... I don't know what the EC wants from me. It punished me without considering my reply. They have committed a huge legal blunder in my matter," he said and called himself a "victim".
Meanwhile, supporters of Azam, wearing black badges, staged a march in front of Jama Masjid here raising slogans against the Commission.