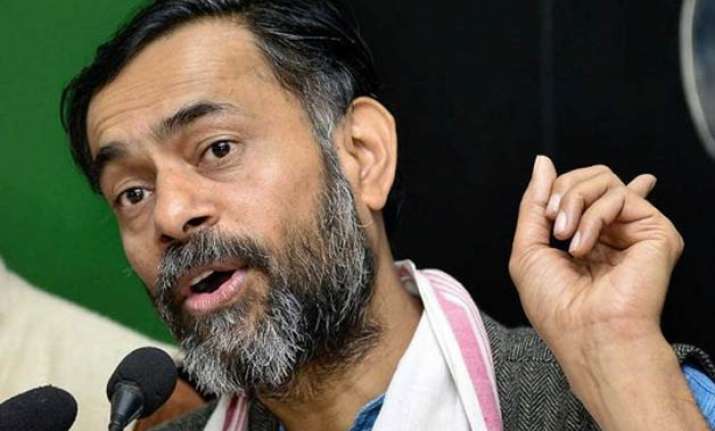 Ahmedabad: The city police on Monday stopped the 'Swaraj Samvad' organized by former AAP leaders Yogendra Yadav and Anand Kumar here, stating lack of permission.
Yadav and Kumar, who then held the meeting out in the open, said this was akin to the situation during the Emergency imposed by Indira Gandhi government.
"It seems that Gujarat government is shaken to the core due to our arrival. I urge (Chief Minister) Anandiben Patel to control the police. This denial of permission reminded us of the situation prevailing during Emergency. This act showed that Patel is even worse than Indira Gandhi when it comes to muzzling the voice of opposition," Kumar said.
The meeting was supposed to be held at Mehndi Navaz Jung Hall in Paldi area at 4 pm. However, moments before it was to start, organizers were told by hall authorities that Ellisbridge police had asked them not to allow it.
Police said that a permission is needed if the program is of political nature.
"Even if the program was supposed to be held inside a hall, they must get a prior permission from us if it is of political nature. As they had not obtained it, we asked the hall authorities to deny entry to them," said inspector N K Vyas.
Yadav and Kumar then addressed their supporters sitting in the open area near the main gate of hall premises. They also dared the BJP government to face them when they come back and reach out to people on a mass scale.
"Since we want to expose those who have looted nation's resources, this government doesn't want us to have a dialogue with people. We will come back after one month with permission and reach out to people on ward level. Then people will show them (the ruling party) the door," said Kumar.
Yadav gave details about the political road map. He promised to build a party with federal structure.
"Ours will be a federal organization, where decisions will be taken as per the views of volunteers. We have also decided not to use photographs of a living person. We have also decided to bring our party under RTI for greater transparency," he added.