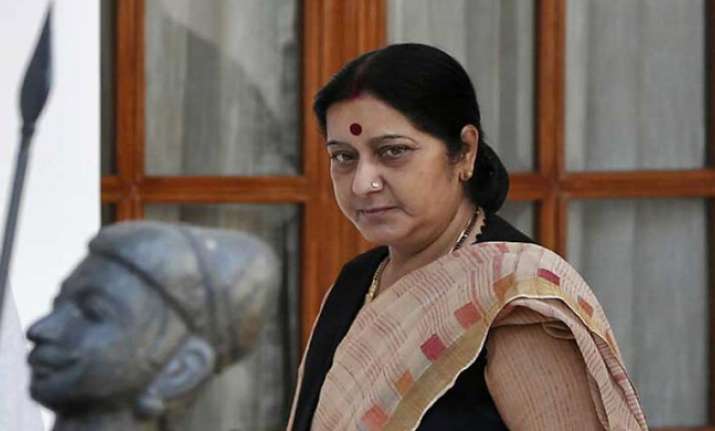 The election to choose the next President of the country will take place in July next year. However, political circles are agog with speculations over who would be the presidential nominee of the ruling BJP. 
According to some media reports, two BJP leaders are in contention for the highest Constitutional post in the country. 
While RSS is believed to be backing the candidature of External Affairs minister Sushma Swaraj, another section of the BJP is reportedly pushing Lok Sabha Speaker Sumitra Mahajan's name for the coveted post.
It is believed that two senior RSS functionaries Bhaiyyaji Joshi and Dattatreya Hosbole are projecting her name. 
RSS Sarsanghchalak Mohan Bhagwat is also believed to be in favour of Sushma's candidature.
If the RSS sticks to its support for Sushma, then she could very well be the next President of India.
Sumitra Mahajan, on the other hand, enjoys a better relationship with both Prime Minister Narendra Modi and BJP President Amit Shah.
The BJP, however, is in no hurry to take a final call on its presidential candidate and the party's decision will depend on the outcome of upcoming Assembly elections in five states including UP and Punjab. 
The BJP is well aware of the fact that the electoral arithmetic for electing the next President is not entirely in its favour under existing political grouping.
As on today, the BJP falls short of around 1.75 lakh votes out of a total of 10.98 lakh votes to get its candidate elected as President on its own. The party wants to bridge the gap by performing well in the upcoming election to five state assemblies.
However, if the BJP fails to perform well in the upcoming Assembly elections, the party will have to project a name that will be acceptable to the opposition parties as well. And in that scenario, Sushma Swaraj will have an edge over others.
It is believed that the opposition parties are also positive over Sushma's candidature. Her candidature cannot be rejected on the scale of merit as well.
Given the fact that Sushma Swaraj is facing challenges on the health front especially after undergoing kidney transplant, there is a view that the post of President will be more convenient for her.