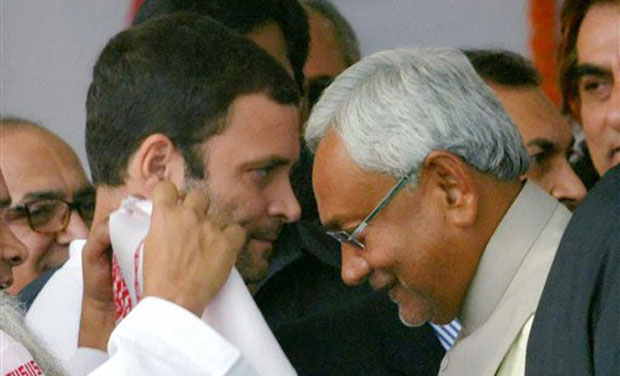 With the opposition failing to put up a strong front against centre's demonetisation drive, an irked Congress stated that there can be only one prime ministerial candidate from the alliance it is part of. 
With the Congress failing to bind up forces to put a strong front against demonetisation drive especially after Bihar Chief Minister's unflinching support to centre's decision , the grand old party is reportedly seeing CM Nitish Kumar's prime ministerial ambitions as a major reason behind this move. 
Nitish Kumar's stand on supporting note ban is aimed at carving an independent image for himself with 2019 elections in mind, the TOI reported  quoting Congress party insiders.
For the outfit which helped persuade Lalu Prasad to accept Kumar as the face of Bihar alliance, the Bihar chief minister's stance is seen as a terrible blow.
Nitish Kumar's surprise move to back the Modi government over demonetisation has triggered concern as well as anger in Congress which is the largest of the parties in the opposition protesting the move. 
However, it is unlikely that Congress would accept any leader other than its vice-president Rahul Gandhi as the PM candidate for a counter alliance to BJP in the upcoming Lok Sabha elections. 
"We lay great store by this protest against the currency ban. It is led by Rahul Gandhi and we have suffered a setback from one of our trusted leaders. We are hurt," a senior Congress leader was quoted by Times of India as saying. 
According to the report, Congress insiders believe that Nitish Kumar, with his move to back note ban, is angling for the pole position for the 2019 Lok Sabha elections. In that case, he will have the option of either emerging the head of "regional parties or third front" or of a remote post-poll scenario where BJP has to back an outsider for the top post.
"But two leaders of the same alliance — Rahul and Kumar — cannot be the contenders for Bihar votes," said a senior Congress leader, asserting that the party would not entertain any challenge to its lead position in the parliamentary polls.