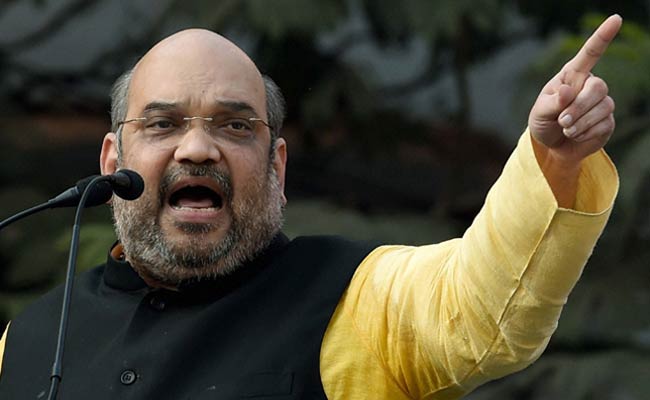 Attacking the ruling Samajwadi Party over the ongoing feud in the Yadav family, BJP President Amit Shah today said those responsible for governing the state are busy abusing each other.
"The ones, who were given power to bring development in the state, are today busy in insulting each other," Shah said while addressing a public rally before commencing the "Parivartan Yatra" of his party.
"Uncle is busy in abusing his nephew and nephew is busy in abusing his uncle," Shah quipped.
The BJP President's remarks came after Samajwadi Party General Secretary Shivpal Singh Yadav on Saturday again made an indirect attack at his nephew at the Silver Jubilee celebration of the party in Lucknow.
Referring to his dismissal from the state Cabinet twice, Shivpal said that he was neither greedy for any post nor any ministry. He also said if the party so wishes, he is ready to give even his blood and everything at his command for the Samajwadi Party. 
"While some people get power in lineage, there are many who are silent workers," Shivpal said.
Even Uttar Pradesh Chief Minister Akhilesh Yadav took a dig at his uncle after the latter presented him a sword and said, "You have given me a sword and I will use it," he said.
Targeting Bahujan Samaj Party (BSP) supremo Mayawati, the BJP President said, "Remember your rule Behenji, when most attacks on Dalits took place in Uttar Pradesh."
He also reminded the BSP chief of the scams which took place during her tenure. 
He slammed the BSP and SP for the poor condition of the state and said that during their 15-year rule, they have derailed the growth process in Uttar Pradesh. 
Shah also asserted that "The BJP will get majority in assembly elections in Uttar Pradesh." 
"Like 2014, we are bringing our campaign from western Uttar Pradesh again," he added.
The BJP in the 2014 Lok Sabha elections won 72 out of the 80 seats in the state. 
Shah said the Parivartan Yatra will pass through all the assembly constituencies of the state and reach Lucknow on December 24.
Attacking the Congress for doing politics over the death of an ex-serviceman, Shah said, "A soldier commits suicide and they are doing politics for vote bank. This is disgusting."
Slamming Congress Vice President Rahul Gandhi, Shah said, "Rahul Gandhi talks about OROP (One Rank, One Pension), but it is the BJP government that implemented the policy while the Congress dragged for decades."
(With IANS inputs)