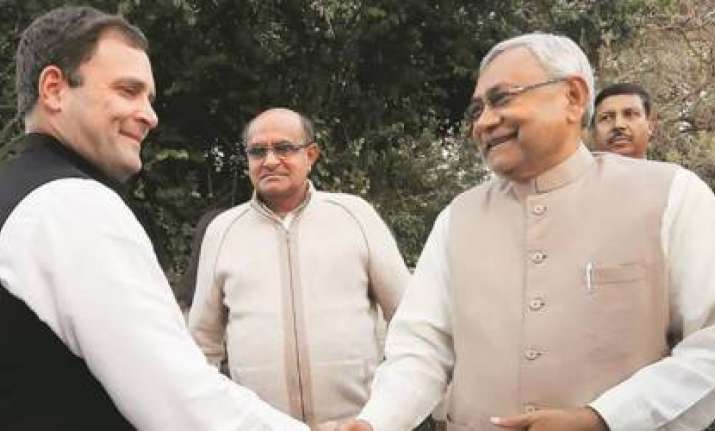 Amid speculation over a rift in the 'Grand Alliance' in Bihar, Congress vice-president Rahul Gandhi met Bihar Chief Minister and Janata Dal (United) supremo Nitish Kumar in New Delhi yesterday. 
According to media reports, Nitish nudged Rahul to take on corruption charges against Rashtriya Janata Dal (RJD) chief Lalu Prasad Yadav and his family, particularly his son Tejashwi Yadav. 
Kumar visited the Tughlaq Lane residence of the Congress leader and, according to sources, shared his concern over the continuation of Bihar deputy chief minister and RJD Chief Lalu Prasad Yadav's son Tejaswi Yadav in the state Cabinet since the Central Bureau of Investigation (CBI) has registered an FIR against him on corruption charge.
It is also reported that Nitish made it clear to Rahul that 'tainted' Tejashwi Yadav, who is facing graft charges, will have to either come clean on the charges or step down. While Nitish has not set a clear deadline but he reportedly said that a decision has to be taken this week the Bihar legislative assembly would be in session on July 28 and before that the deputy chief minister of Bihar has to put in his papers.
While the RJD supremo has rejected demands of resignation of his son, Kumar is learnt to have reservations about Tejashwi's continuance as it dents his anti-corruption image. The JD(U), Congress and Rashtriya Janata Dal are partners of Bihar's ruling Grand Alliance, which is in the throes of a political crisis due to the CBI raids on RJD leader Tejashwi Yadav's premises over an alleged benami land deal. The JD(U), in its efforts to portray a corruption-free image, has demanded that Tejashwi Yadav quit, which has been rejected by the RJD and the Congress.
Talks between Nitish and Tejashwi last week do not seem to have smoothed the political ripples. Kumar's meeting with Rahul comes days after Congress president Sonia Gandhi spoke to the Bihar Chief Minister and to RJD chief Lalu Prasad in an effort to prevent a collapse of the ruling coalition.
Kumar had sought an explanation from Yadavs earlier this month as the minimum requirement for keeping the alliance alive, though he made it clear that what he prefers that Tejashwi Yadav should quit. The Rashtriya Janata Dal, blustered that would not happen, further angering Nitish Kumar.