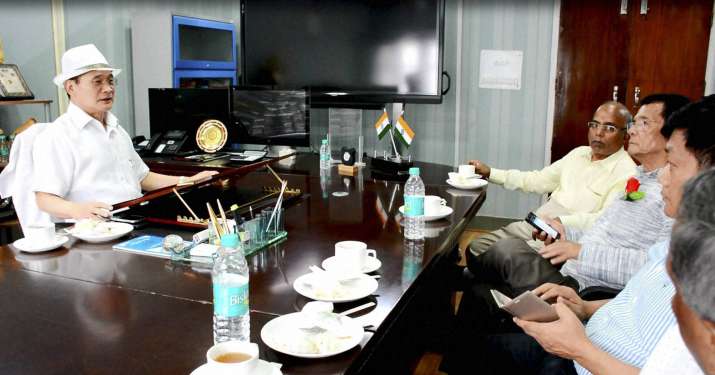 Itanagar:
The Arunachal Pradesh Legislative Assembly at Naharlagun has been put under tight security cover ahead of the floor test by Chief Minister Nabam Tuki on Saturday.
Security personnel were deployed in and around the Naharlagun town, particularly near the State Legislative Assembly complex and all entry and exit routes have been placed under security cover to ensure that no anti-social element hamper the the session.
Arunachal Pradesh Governor Tathagata Roy had reinstated Nabam Tuki as the state Chief Minister following the Supreme Court judgment on Wednesday and asked him to take the floor test to prove the majority of his government in the House no later than Saturday.
Tuki held a Cabinet meeting on Friday and appealed to the Governor to defer the session of the House by 10 days so that he gets reasonable time to prove his majority in the House.
Roy, however, asked Tuki to take the floor test on Saturday as scheduled.
Meanwhile, the political situation is changing rapidly in the state as sources in the Congress party said that the a meeting of the Congress Legislature Party (CLP) is slated on Saturday, ahead of the scheduled House session to prove the majority of the Nabam Tuki led government.
"A section of the Congress leaders are not projecting Pema Khandu as the Chief Minister instead of Tuki and the CLP meeting is likely to elect Khandu as the CLP leader. After his election as the new CLP leader, Khandu will meet the Governor and prove the majority of his government in the House," the sources said.
Former Chief Minister Kalikho Pul, who had unseated Tuki in February this year with the help of a faction of dissident Congress legislators and BJP members, claimed that he has got the support of 42 legislators in the 60-member house, whose effective strength is 58 now after two members resigned earlier.
Pul, who is camping in a hotel in Guwahati since last two days with 42 legislators, also expressed fear that Tuki might try to resort to "horse trading" if more time is given for the floor test.