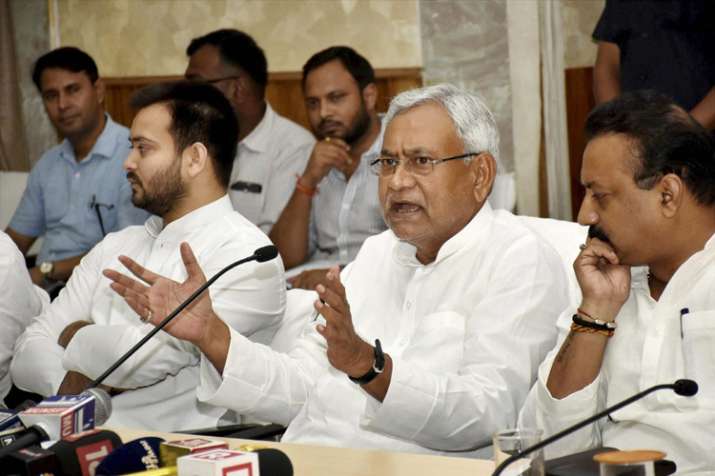 Spelling more trouble for Lalu Prasad Yadav, Income Tax department today conducted raids and surveys at about 22 locations in Delhi and adjoining areas in connection with alleged benami deals of Rs 1,000 crore by the RJD supremo and members of his family. 
Reacting sharply, the Lalu alleged the BJP had "let loose the government machinery on him". 
Lalu's Rashtriya Janata Dal (RJD) is in alliance with Nitish Kumar's JD(U) and the Congress and jointly rules Bihar. 
Here is how Lalu's 'mahagathbandhan'  partners reacted: 
Nitish Kumar
Bihar Chief Minister Nitish Kumar reacted cautiously to the raids.
"As per the media reports we have got to know that raids have been carried out at 22 places... But we don't know where those raids are taking place and what is the purpose behind them," Kumar told reporters in a reply to a question. 
"What can I say till I get to know the details," the CM said emerging from a cabinet meeting here. 
Congress
Besides Lalu, government agencies also searched Congress leader P Chidambaram's premises.
Reacting to the raids on Lalu and Chidambaram, the Congress said that none of its leaders or that of the opposition would be cowed down by the politics of "revenge and vendetta" which had "become the DNA of this BJP government". 
The AICC incharge of communications, Randeep Surjewala said, "The truth is that revenge has become the DNA of the BJP government." 
"We want to reiterate that neither P Chidambaram, nor any Congress leader or any other leader of opposition, would be deterred or cowed down from fear of the politics of revenge and vendetta," he said. 
Surjewala, instead, accused the BJP and its leaders of being corrupt as he highlighted the alleged scams involving top party leaders holding ministerial positions in this government. 
"May we ask the prime minister, that if the yardstick is morality, why is he shying away from ordering an inquiry into the Sahara-Birla excel sheets in which he himself has been named repeatedly about having taken bribes," he alleged. 
Raids and surveys at 22 locations in Delhi and adjoining areas
The Income Tax Department has conducted raids and surveys at 22 locations in Delhi and adjoining areas to probe into the alleged benami deals worth Rs 1,000 crore linked to RJD chief Lalu Prasad and others. 
Reacting strongly to the IT raids, RJD chief Lalu Prasad put up a brave front saying he was "not scared at all" and will continue to "fight against the fascist forces." 
"BJP mein himmat nahi hai ki Lalu ki awaz ko daba sake... Lalu ki awaz dabayenge to desh bhar me karoron Lalu khare ho jayenge... Main gidarbhabhki se nahi darne wala hoon (BJP does not have the courage to stifle my voice ... If it tries to silence one Lalu, crores of Lalu will stand up in the country. I am not scared of empty threats)," he tweeted.