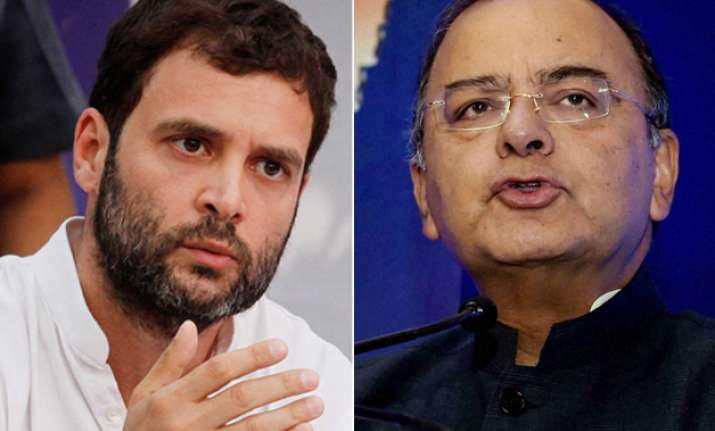 New Delhi: Responding to Congress vice president Rahul Gandhi's comments accusing the government of helping people like liquor baron Vijay Mallya, Union Finance Minister Arun Jaitley today told the House that there was 'a proper legal process that needs to be followed to prevent somebody from leaving the nation'.
In a jibe at the Congress over its attacks on the government over Vijay Mallya's exit from India, Jaitley said that the Amethi MP should be aware of the 'fact that there is a basic difference between Mallya leaving and Quattrocchi leaving the nation'.
 "Rahul must have forgotten that the loan was given to Mallya during Congress regime… and then restructuring was done. I request you people (media) to help Rahul to understand this. There is a basic difference between Quattrocchi's leaving the country and Mallya. Quattrocchi was allowed to flee in spite of the fact that there was a criminal case," Jaitley said countering Congress' charges.
Jaitley also informed the house that Mallya had left the country before the banks had approached court for a stay on his foreign travel. "The day Mallya left the country, banks had not started the legal process, it should've been better if they had done that," he added.
Earlier in the day, trying to push the government on the backfoot, a combative Congress vice president Rahul Gandhi asked how it allowed liquor baron Vijay Mallya, who owes over Rs 9,000 crore to banks, to leave the country.
The Congress leader attacked the government saying the entire country is questioning why this government was helping people like Mallya by allowing him to escape and not fulfilling its promises made to people for bringing back black money and giving Rs 15 lakh into every person's bank account.
"When a poor man steals, he is beaten up and thrown into jail. Someone who does not have food to eat and steals a roti is beaten up and put behind bars and a big businessmen who steals Rs 9,000 crore from country, you allow him to escape in First Class from the country. What is this happening? We simply asked that someone who stole Rs 9,000 crore from the country, how did he run away from the country. How did you allow him to escape? This is the simple question and we neither got a reply to this from Modiji nor from Jaitley ji. The question is why did your government allow him to run away from the country," he told reporters outside Parliament.
He also hit out at the Modi government for bringing the 'Fair and Lovely' tax amnesty scheme, saying it only helped thieves, black marketeers and drug mafia to convert their black money into white.
Rahul also attacked the Prime Minister over his style of functioning, saying Modi in his long speeches has not answered his queries made to him.
Attacking the government for its tax amnesty scheme, Rahul said, "Fair and Lovely scheme is for thieves, black marketeers and drug mafia. Anyone who wants to convert his black money into white can do so through this scheme. The entire country is asking, I am not asking, that why are you helping these people. The question I am asking is if you have promised to give us Rs 15 lakh,then why are you giving him Rs 9,000 crore."
The Congress leader said if Modi government has promised to bring back black money, then it should bring it back and not allow Mallya to escape abroad and should stop him.
"Before he became Prime Minister, Modi had promised that he will put Rs 15 lakh in our bank accounts. We did not get even a single rupee and Vijay Mallya ran away from the country with Rs 9,000 crore. We asked Mr Jaitley to tell us how Mallya ran away from India. If there is action against him and a lookout notice has been issued against him, then what is he doing in Rajya Sabha," he said.
Rahul said he had asked the government a few days ago in Parliament about the tax amnesty scheme "through which thieves and blackmarketeers can convert their black money into white".
The Congress in both Lok Sabha and Rajya Sabha accused BJP government of "criminal conspiracy" in allowing businessman Mallya, facing probe in several loan default cases, to fly out of the country.
Ghulam Nabi Azad said in Rajya Sabha that everyone knew Mallya "could flee any day" and investigating agencies should have confiscated his passport and taken steps to restrict his movement.
Finance Minister Arun Jaitley, however, sought to corner the main opposition party, saying the loans were given to him during UPA rule. "There is a loan of more than Rs. 9000 crores against him. The government is taking every measure to recover money from Mallya. We have given banks all the liberty to take every possible measure to recover their debts," he said.
The Supreme Court yesterday issued a notice to Mallya on a plea filed by a consortium of 13 PSU banks headed by the SBI. The lenders had moved the apex court to prevent Mallya from leaving the country and impounding his passport even as the loan recovery procedure for Kingfisher Airlines is still on.
The notice will be served through the Indian High Commission in London. Based on CBI inputs, Attorney General Mukul Rohatgi, appearing for the banks, informed the Supreme Court that Mallya left India on March 2 and could be in the UK. The apex court has sought Mallya's response to the banks' plea by March 30 which is the next date of hearing.