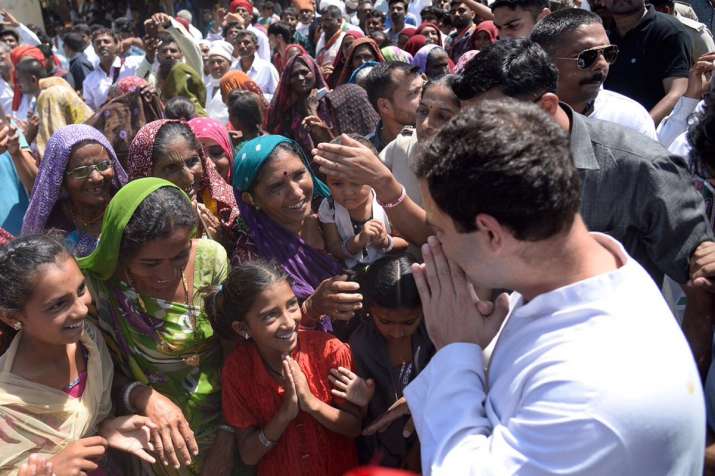 Congress Vice President Rahul Gandhi on Monday began his three-day Navsarjan Yatra from Dwarka, kick-starting the party's campaign in the state ahead of the Gujarat Assembly elections campaign. The Congress party will be looking to make a dent in the BJP's prospects in the state that it has held for over two decades. Rahul's visit is also laden with symbolism that indicates a deep shift in the Congress party's strategy, with the party scion choosing to begin his journey with a visit to the Dwarkadheesh Krishna temple in the city.
While the police refused him permission to cover the 135 km stretch from Dwarka to Jamnagar by an open jeep and stage roadshows citing security reasons, Rahul took a specially done up luxury bus for him equipped with CCTV cameras. While the open-jeep connect with the people might have been denied, Rahul did not lose an opportunity for optics and arrived at a Chaupal sabha in Hanjarapar village on a bullock cart.
Over a fortnight after he held a lively interaction with thousands of party workers at Ahmedabad Sabarmati Riverfront, the 47-year-old Congress scion is going out on a whirlwind tour of the Saurashtra region, which sends one-third of the legislators in the 182-member State Assemly, from the famous religious town of Dwarka.
He started his day by offering prayers at the Dwarkadheesh Krishna temple, from where he drove down to Jamnagar, interacting with locals at various educational institutions, women and businessmen.
Here are the highlights:
04:05 pm: The Congress Vice President will be attending a Khat Sabha in the village  
04:00 pm: Rahul Gandhi uses a bullock cart to arrive at a Chaupal sabha in Hanjrapar village 
कांग्रेस उपाध्यक्ष राहुल गांधी ने हंजरापर गांव की एक चौपाल सभा में जाने के लिए बैलगाड़ी का इस्तेमाल किया #RahulInGujarat pic.twitter.com/8EEWU00niM

— Congress (@INCIndia) September 25, 2017
02:05 pm: BJP has no space in its heart for the poor and weak. But when it comes to the rich, they open all doors, Rahul says  
02:00 pm: He did not stop there. After traders and small businesses had been badly hurt, he followed it up with GST: Rahul Gandhi
01:48 pm: Narendra Modi attacked India's economy, without asking anyone: Rahul Gandhi
नरेन्द्र मोदी जी ने बिना किसी से पूछे हिंदुस्तान की अर्थव्यवस्था पर जबरदस्त आक्रमण किया, वो यहीं नहीं रुके; फिर GST आया #RahulInGujarat pic.twitter.com/P1cXG3FoGM

— Congress (@INCIndia) September 25, 2017
01:30 pm: GST is not one tax but 5 different taxes, says Rahul Gandhi
Began the three day Navsarjan Yatra in Gujarat with darshan at Dwarkadhish Temple pic.twitter.com/PkFz0s3Z7v

— Rahul Gandhi (@RahulGandhi) September 25, 2017
12:02pm: Patidar leader Hardik Patel welcomes Congress VP Rahul Gandhi in Gujarat. 
11:52 am: 
Gujarat: Congress Vice President Rahul Gandhi visits Dwarkadhish Temple in Dwarka pic.twitter.com/fNKoRIkWis

— ANI (@ANI) September 25, 2017
11:40am: Congress VP Rahul Gandhi arrives in Dwarka, received by Ashok Gehlot and Bharat Solanki
10:00 am: Congress VP Rahul Gandhi begins three-day Navsarjan Yatra from Dwarka. He will address farmer, youth & demonetisation issues.
In Hanjrapar village some 25 km from Dwarka, Gandhi will enter in a traditionally decked up bullock-cart. 
From the village of Hanjrapar which has a voter population of 1,107 from the Ahir caste, the Congress Vice President is scheduled to meet bullion traders and representatives of Jamnagar's widely known brass parts industry.
After a night halt at Jamnagar, on Tuesday morning he will drive down to Rajkot, the hometown of Gujarat Chief Minister Vijay Rupani and also the key nerve centre of the Saurashtra region. 
Gandhi would also offer prayers at the Khodaldham Temple, the deity of Patidar community.
On Wednesday, the Congress leader will reach Surendranagar. Here, he is expected to climb the long-winding stone stairs to the popular hilltop Chotila Temple. 
He will wrap up his tour at Viramgam on the entry to Ahmedabad district, which incidentally happens to be the native home town of the young Patidar (or Patel) agitation spearhead Hardik Patel.
The Saurashtra region has been electorally tough for the Congress for the last two decades and it won only 12 of the 52 seats here in the 2012 assembly elections.