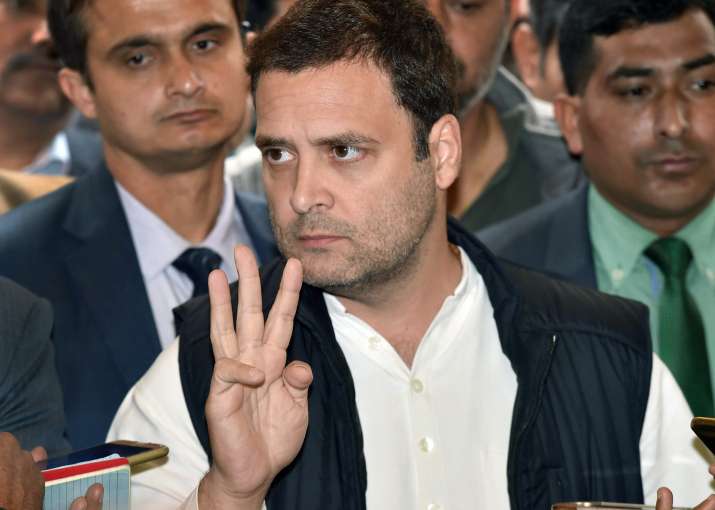 Rahul Gandhi has done it again! When Prime Minister Narendra Modi was addressing Bharatiya Janata Party workers after the resounding victory in Gujarat and Himachal Pradesh elections, new Congress chief was out for a movie with friends. 
Congress president Rahul Gandhi was spotted watching latest Hollywood film Star Wars in New Delhi's PVR Chanakaya movie theatre immidiately after his party lost two key assembly elections to BJP. 
At a time when Congress party should be working on the flaws in election strategy, the exhibition of carefree attitude of the leader at its helm has left people shocked. 
Soon after the news broke out, the Twitter hashtag #AreYouSeriousRahul started trending. Needless to say, Rahul Gandhi was again butt of many jokes. 
Rahul watches star wars yesterday !! cool guy man !!$hahruk khan of politics !!

— Sara'D 🇮🇳🕉 (@partha1270) December 19, 2017
#AreYouSeriousRahul

Even after @BJP4India Wins 2 States yesterday,
Today PM @narendramodi on work to visit #CycloneOckhi affected area😇😇,

But even after pathetic lose @INCIndia
Their head @OfficeOfRG went to see "Star Wars" movie😬😬,

Still pseudo liberals want Rahul as PM

— Sailor Senthil (@SailorSenthil) December 19, 2017
And forget Gujarat, Congress lost its government in Himachal and Rahul Gandhi was busy watching Star Wars! #AreYouSeriousRahul

— Amit Malviya (@amitmalviya) December 19, 2017
6 Hours After Gujarat Loss, Rahul Gandhi Was Watching 'Star Wars' At Cinema Hall In Delhi. Why So Much Outrage? He Was Just Celebrating His Moral Victory. 🙃🙏🇮🇳#AreYouSeriousRahul

— Sir Jadeja fan (@SirJadeja) December 19, 2017
Forget about the movie, when I fail in any exam, I do not even come out of my room for a week due to embarrassment and after losing two big elections, Rahul Gandi is watching Star Wars in cinema hall. #AreYouSeriousRahul

— Abhishek Singh (@kabhishek744) December 19, 2017
BJP leaders also attacked Rahul Gandhi for exhibiting such non-serious attitude, raising doubts on his ability to lead a national party. "He chose to watch Star Wars after losing two wars (Himachal Pradesh and Gujarat). People normally brainstorm on the reasons of setback but Rahul Gandhi's attitude shows how committed he is to the job," RP Singh, BJP leader said. 
"The question now is if Congress party needs such a president, will he be able to keep forth his vision for nation's development," asked Amit Malviya, BJP leader.
Congress spokesperson Randeep S Surjewala defended party chief on Twitter by saying that he is just like 'every other Indian'. 
Dear 'Bhakt Channels' -: FYI.

Sh. Rahul Gandhi lives life like every other Indian. He does watch movies.

Warm Regards,

Thank you!

— Randeep Singh Surjewala (@rssurjewala) December 19, 2017
But such shocking behaviour is nothing new for Gandhi scion. In the past too, Rahul Gandhi, who gives the impression of being a part-time politician, was absent at major events. 
#Rahul Gandhi went on a 56-day vacation during the first Budget Session of NDA
#He was missing from the 130th foundation day of Indian National Congress in December 2014
#Congress leader skipped the farewell dinner hosted by his mother for the then prime minister Manmohan Singh in May 2014
#On June 28, 2017, Rahul Gandhi was missing when Meira Kumar filed her nomination papers as the Opposition camp's candidate for the July 17 Presidential Election.