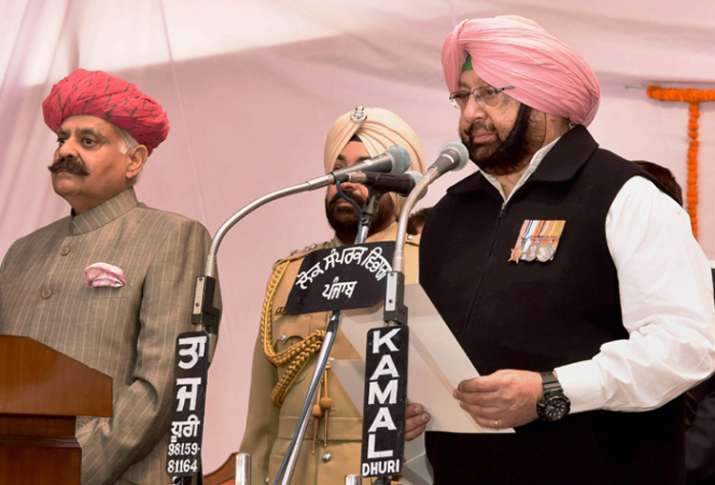 Soon after taking oath as Chief Minister, Capt Amarinder Singh on Thursday allotted portfolios to his nine ministers keeping the crucial Home Ministry for himself. 
Singh was today sworn-in as the Punjab CM for the second time with nine ministers including Navjot Singh Sidhu also taking the oath. 
He took charge of his new office at the Punjab Secretariat here today amid multi-religious prayers. 
Cabinet Minister Navjot Singh Sidhu has been allotted the portfolios of Local Government and Tourism & Cultural Affairs, Archives and Museums.
Speculation was rife that the cricketer-turned politician would be given the post of deputy chief minister but he was second among the list of nine ministers to be sworn in. 
Brahm Mohindra, who was sworn in as cabinet minister right after Amarinder, has been given the portfolios of Health & Family Welfare, Research & Medical Education and Parliamentary Affairs. 
Manpreet Singh Badal, estranged nephew of former Chief Minister Parkash Singh Badal, has been assigned the departments of Finance, Planning and Employment Generation.
Forests, Printing & Stationery, Welfare of SCs & BCs would be looked after by Sadhu Singh Dharamsot. 
Tript Rajinder Singh Bajwa has been given the charge of Rural Development and Panchayats and Water Supply & Sanitation.
Amarinder has allotted the portfolios of Irrigation and Power to Rana Gurjit Singh and Technical Education and Industrial Training to Charanjit Singh Channi.
Amarinder's Council of Ministers also has two women.
While Aruna Chaudhary, Minister of State (Independent Charge) has been assigned the portfolios of Higher Education and School Education (Independent Charge), Razia Sultana has been allotted the portfolios of PWD (B&R), Social Security & Development of Women and Children (Independent Charge). 
The Council of Ministers has representation from different castes, regions and religious faiths. 
While Mohindra, the senior-most minister after Amarinder, is a Hindu face in the cabinet hailing from the CM's home district Patiala, the rest of the cabinet ministers are Sikhs which include Charanjit Singh Channi and Sadhu Singh Dharamsot, both from the Dalit community. 
Among the women who have been given ministerial berths, Arun Chaudhary is a Dalit face from Gurdaspur district while Razia Sultana is a prominent leader from Malerkotla, who belongs to the Muslim community. 
75-year-old Amarinder was sworn in as the state's 26th chief minister. This will be Amarinder's second stint as chief minister. Earlier, he led the Congress government from 2002 to 2007. 
While Amarinder Singh and Rana Gurjit Singh were the only ones to take oath in English, Mohindra and Aruna Chaudhary took oath in Hindi, while the rest took the oath in Punjabi. 
The state can have a maximum of 18 ministers including the Chief Minister. The Congress has 77 MLAs in the assembly.
Amarinder assumes charge as Punjab CM amid chanting of prayers and hymns 
Chief Minister Capt Amarinder Singh took charge of his new office at the Punjab Secretariat here today amid multi-religious prayers. 
The second floor office of Punjab's 26th chief minister reverberated with the chanting of sacred hymns from the Bhagwad Gita, the Guru Granth Sahib, the Quran and the Bible as he entered it along with several of his newly inducted ministerial colleagues, MLAs and associates. 
Amarinder, along with a 9-member council of ministers, had taken the oath of office earlier in the morning at the Punjab Raj Bhawan in the presence of several prominent dignitaries, including former Prime Minister Manmohan Singh and AICC vice president Rahul Gandhi.
After assuming charge, Amarinder said he was committed to fulfilling all his electoral promises and his government would take several important decisions at its first cabinet meeting scheduled on Saturday. 
He reiterated his promise to constitute a Special Task Force (STF) to wipe out the drug menace from the state within four weeks, as promised in the Congress poll manifesto.