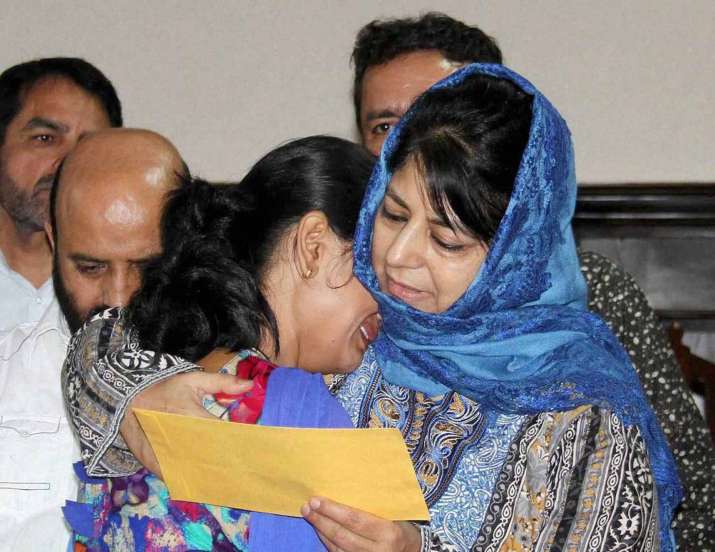 Hoping that Prime Minister Narendra Modi will use his mandate to save the lives and future of children of Kashmir, Jammu and Kashmir Chief Minister Mehbooba Mufti said on Monday that the Centre will have to take "one or more steps" than Pakistan to "apply balm on the wounds" of people of the state. 
"I met Prime Minister recently. I have full hope that the mandate and power he has, he (PM) will use that power to save the lives and future of children of Kashmir," she said here while speaking at inauguration of building of Food Craft Institute.
"May be we (Government of India) have to take one or more steps than our neighbouring country (Pakistan) as Jammu & Kashmir is our state and we have to apply balm on wounds of the people," she added.
"To apply balm on the wounds of the people of Jammu & Kashmir, not only the Prime Minister or NDA government but the entire leadership of the country, Congress, CPM, JDU etc should come forward and support the peace building initiative," Mehbooba said.
Mehbooba, who recently met the Prime Minister to discuss Kashmir issue, said Modi has the mandate to take bold decisions on the lines of Atal Bihari Vajpayee for the resolution of the problems in and around Jammu & Kashmir.
"We have to ensure that a credible mechanism for dialogue, reconciliation and resolution is put in place and it should not be like the half-hearted efforts made in similar situations after 2008 and 2010 unrest," she said and called for creating conducive atmosphere for dialogue.
"We are facing difficult situation in the state ... We hope that we will come out of this situation. We pray to God that such a situation is not repeated again in future," Mehbooba said.
"But I am happy that people of Jammu have ensure peace and communal harmony. Situation in Kashmir is bad. There was violence and bloodshed. But the people of Jammu ensured communal harmony and brotherhood," she noted.
The chief minister said whosoever wants the Kashmir problem to be addressed should understand that solution is not going to come through violence.
She said violence has changed nothing on political spectrum of Jammu & Kashmir over the years and has only brought mayhem, miseries, economic disaster, academic breakdown and social disorder to the state.
Maintaining that violence will not help resolve issues, the chief minister said that peace and dialogue is the only way forward towards addressing the Kashmir imbroglio.
"Threads need to be picked up from where these were left by former Prime Minister Atal Bihari Vajpayee in 2005, when a serious effort was made both on external and internal fronts to resolve the Kashmir issue through a credible and meaningful dialogue and confidence building process," she said.
She asserted that PJP-PDP entered into alliance to carry forward the agenda of Vajpayee and former chief minister Mufti Mohmmad Sayeed and not for power or government.
"We entered into alliance (between PDP and BJP) in difficult circumstances. We did not entered into coalition for the power and the government", She said.
The Chief Minister said the coalition was formed to ensure that Jammu & Kashmir is brought out from the nearly 70-year-old turmoil and misfortune.
"There was unrest in 2008 and it was followed by 2010 and now in 2016 there is again this violent unrest. We are yet to come out of these misfortunes," she said.
Vajpayee had made a beginning to win hearts and minds of the people of Jammu & Kashmir, she said, adding he had also impressed upon Pakistan that "war, conspiracies and infiltration is no solution to Kashmir problem, but we should sit and hold talks".
Hailing the step taken by Modi of going to Lahore which was followed by Union Home Minister Rajnath Singh's visit to Islamabad, Mehbooba said, "I hope that Pakistan will understand sooner or later and will realize that targeting each other or leveling allegations will not solve any issue.
"Both countries should hold the hand of each other and carry forward the step taken by PM Modi."
She said if Pathankot terror attack had not happened, "the situation (between India and Pakistan) would have been better."
She went on to add, "Whatever has happened has happened" and said the two countries should follow Vajpayee's initiative.
(With PTI inputs)