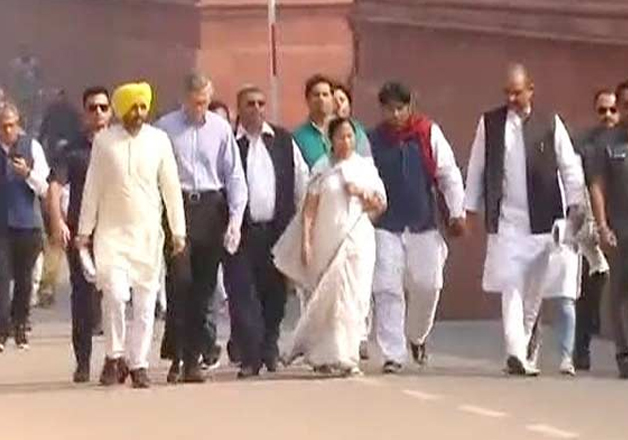 Trinamool Congress supremo Mamata Banerjee today found support from leaders of NDA constituent Shiv Sena, Akali Dal, AAP and NC today and marched to the Rashtrapati Bhavan against the government's decision to demonetise Rs 500 and Rs 1,000 notes.
The one-km long march started from Parliament House and ended at the Rashtrapati Bhawan where leaders met President Pranab Mukherjee and submitted a petition against the government's currency ban decision.
Speaking to reports post-meeting the President, Mamata said that the TMC will move an adjournment motion in Lok Sabha tomorrow.
"President was once the Finance Minister and knows the country's situation better than anyone else. We have requested the President to speak to government and decide on this and bring back normalcy in the country," she said.
"Initially ATM meant "All time Money" now it is 'aayega tab milega'," she added.
While Delhi Chief Minister Arvind Kejriwal skipped the march as Shiv Sena was part of it, he did send party MP Bhagwant Mann to make a representation. 
National Conference leader Omar Abdullah also took part in the march. Besides, leaders from Shiv Sena, an ally of the ruling NDA government, were also seen marching towards the Rashtrapati Bhavan.
Shiv Sena MP Anandrao Adsul said they were not against the decision to demonetise currency but at the way it had been implemented. 
"We are not against the decision but the way it has been implemented. On that we are supporting Trinamool Congress. The decision should have been implemented with proper preparations," Adsul said. 
The government had on November 8 announced its decision to demonetise Rs 500 and Rs 1,000 currency notes, leading to huge queues outside banks and ATMs to exchange the banned notes, deposit them, or withdraw currency that is legal tender.