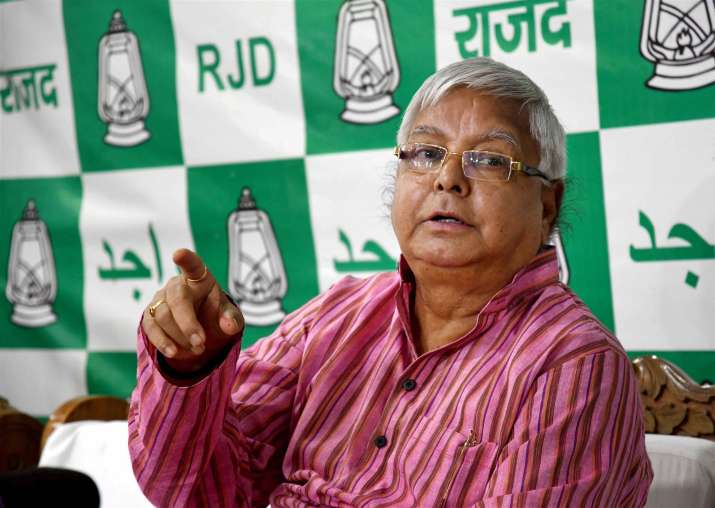 RJD supremo Lalu Prasad Yadav today hit back at Bihar chief minister Nitish Kumar for his remarks in Monday's press conference and said the Janata Dal (United) leader was a champion of U-turns, jumping from one camp to another to suit his interests.
"Nitish Kumar is the 'Palturam' of politics, umpteen times he's been in and out of alliances for his personal benefit. He is a political chameleon and his idealism is a lie," Lalu said addressing a press conference in Patna on Tuesday.
Lalu also slammed Nitish for his remarks on Monday, suggesting that it was he who made Lalu a leader and not the other way around. "Nitish Kumar does not have a bit of shame to say he made me a political leader. I am senior to Nitish Kumar," he said. 
Lalu also highlighted Nitish's change in attitude towards Prime Minister Narendra Modi, saying he should now don a saffron cloak and chant 'Jai Shri Ram'. "Nitish was one of the biggest critics of Narendra Modi till only a few days back. Now, he is showering praises and has even proclaimed that no one can challenge Modi in 2019. It's obvious that his loyalty was suspect from the very beginning," Lalu said.
The RJD president reiterated his charge that the JD(U)'s alliance with the BJP and the fallout with the Grand Alliance was all a 'fixed match' and that everything was pre-planned. "Nitish wanted to make my son Tejashwi as a scapegoat as he was doing good work. He is greedy of power," Lalu said, referring to Nitish's charge that Tejashwi Yadav did not come clean on the corruption charges against him, leaving him with no option but to quit the alliance. 
At a press conference on Monday, Nitish had said he had faced "objectionable remarks" from the RJD but carried on with the party in the interest of the Grand Alliance. However, when the RJD's silence began to have a bearing on his stance of zero tolerance on corruption, he had no option but to quit.   
Nitish Kumar had also slammed Lalu Yadav for suggesting that he would have been nowhere without the RJD's support after the results of 2015 assembly polls came out. "He (Lalu) arrogantly says that he made me the CM ... The people of Bihar showed him his worth in 2010," he had said on Monday.
Reacting to this barb, Lalu reminded Nitish of his own electoral track record. "Have you (Nitish) forgotten your own status in the past. You not only lost twice in two assembly elections, but were defeated convincingly in the Lok Sabha election too," the RJD chief said.
Lalu further sought to remind Nitish Kumar that it was he who brought Nitish to prominence during the students' agitation in Bihar. "I gave prominence to Nitish Kumar during the JP students' movement," he said, adding that Nitish had organized his own farewell from politics.
Lalu further said he was never in favour of projecting Nitish as the leader of the alliance. "I never wanted to project Nitish Kumar as the leader of the alliance, I agreed to it only after Mulayam's request. It was Sharad Yadav who made Nitish Kumar a political leader," he said.
Lalu also sought to assert his credentials as a mass leader, saying his politics was for all who were downtrodden and neglected. "I have fought to bring the powerless to the fore, and I will continue to fight for their rights," Lalu added.