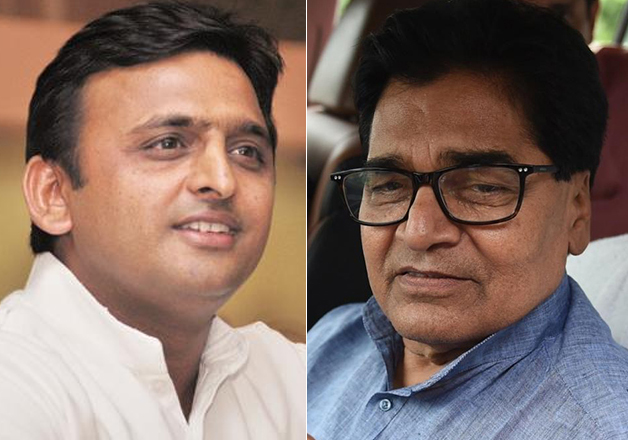 In a dramatic turn of events, the Samajwadi Party on Saturday revoked the expulsion of Chief Minister Akhilesh Yadav and Ramgopal Yadav, a day after they were ousted from the party for six years over anti-party activities.
"I am coming after having met party chief Mulayam Singh along with CM Akhilesh Yadav. Netaji has given the order that the suspension orders of Akhilesh and Ramgopal are terminated with immediate effect," Shivpal said.
"All of us together will fight communal forces and we will once again form a SP government in UP with full majority. These are my orders. We will hold discussions within ourselves and decide, and prepare for the upcoming elections," he said.
"All matters have been solved and we will fight the upcoming polls together. We will all sit together with Netajiand I am sure all problems will be resolved," he added.
When Ramgopal was asked about tomorrow's National Council meeting, he replied, "No change in National Council meeting schedule, the decision was taken before expulsion was announced."
On a day of fast-paced developments, Akhilesh earlier in the day convened a meeting of SP legislators where over 200 of the 229 party MLAs turned up expressing their loyalty with the Chief Minister, a day after he was expelled from the party for indulging in "indiscipline", pushing the ruling party to the precipice of a vertical split.
Some SP MLCs and senior party functionaries loyal to Akhilesh also attended the meeting at the Chief Minister's official residence at 5-Kalidas Marg.
Senior SP leader and UP cabinet minister Azam Khan then arrived at the CM's residence and after a brief stay, they drove to Mulayam's bungalow at a stone's throw distance.
Earlier outside the CM's residence, high drama was witnessed with youth supporters of Akhilesh assembling in large numbers to vent their fury over his expulsion and that of his uncle Ramgopal Yadav.
Akhilesh supporters tried to break the cordon outside the CM's residence and clashed with police.
Akhilesh loyalists also exchanged blows with supporters of SP state unit chief Shivpal Yadav outside party headquarters in the high security VIP zone where heavy police deployment made the entire place look like a battle zone.
As the embattled Samajwadi Party faced its worst ever crisis, RJD supremo Lalu Prasad sought to bring the warring groups together by speaking to Mulayam to broker peace. Lalu telephoned Mulayam, who happens to be his relative too, to ensure that the fighting leaders should bury their hatchet in the larger interest of the party.
Mulayam had yesterday expelled his son Akhilesh and Ramgopal from SP for six years after they put up candidates against the official nominees and summoned a party meet tomorrow, pushing the ruling party to the precipice of a split just ahead of the UP Assembly elections likely to be announced any day now.
Mulayam had said he took the action against Akhilesh and Ramgopal to save the party which he had built through hard efforts.
"We have to save the party. The party comes first. That is why we are expelling both Akhilesh and Ramgopal," he said.
He explained that the decision was taken after Ramgopal, in his capacity as general secretary, called an emergency meeting of the party on January 1 and Akhilesh "supported" it.
Highlights:
Raat bhar ka hai mehman andhera,Kis ke roke ruka hai savera,Raat jitni bhi sangeen hogi,Subah utni hi rangeen hogi: Amar Singh pic.twitter.com/bafktJWRN9

— ANI UP (@ANINewsUP) December 31, 2016
* Mulayam Singhji has once again shown mature politics and his promise that he will not let this family or party split ever: Amar Singh
* No change in National Council meeting schedule, the decision was taken before expulsion was announced: Ramgopal Yadav
Samajwadi Party will fight unitedly against communal forces: Shivpal Yadav pic.twitter.com/a8dGKRadRy

— ANI UP (@ANINewsUP) December 31, 2016
Ram Gopal cancelled his National executive prog and Mulayam Singh and Akhilesh Yadav will sit together to make a list: Shivpal Yadav pic.twitter.com/TZlLHFlnFi

— ANI UP (@ANINewsUP) December 31, 2016
* We are united, will enter poll fray together: Shivpal Yadav
* Mulayam asks Akhilesh to call off tomorrow's national council meeting
* On Mulayam's directive, expulsion of Akhilesh and Ramgopal Yadav from Samajwadi Party revoked with immediate effect, says Shivpal Yadav.
* Akhilesh Yadav requests Mulayam Singh to hold the list of candidates; submits new list of 207 names. He also demanded that action must be taken against Amar Singh
.... मिलकर सांप्रदायिक ताकतों से लड़ेंगे और पुनः उत्तर प्रदेश में पूर्ण बहुमत की सरकार बनाएंगे। (2/2)

— Shivpal Singh Yadav (@shivpalsinghyad) December 31, 2016
नेताजी के आदेश अनुसार अखिलेश यादव और रामगोपाल यादव का पार्टी से निष्कासन तत्काल प्रभाव से समाप्त किया जाता है। सब साथ (1/2)

— Shivpal Singh Yadav (@shivpalsinghyad) December 31, 2016
Akhilesh Yadav, Ramgopal Yadav reinstated in Samajwadi Party
* Meeting at Mulayam Singh Yadav's residence ends; Shivpal Singh Yadav and Akhilesh Yadav leave.
* Shivpal and his son Aditya arrive at Mulayam's residence. Meeting to resolve differences underway
Akhilesh reportedly demanded SP's state unit president post from his father and sacking of Amar Singh from party.
* Akhilesh Yadav, Azam Khan meet Samajwadi Party supremo Mulayam at his residence
Have not separated from my father. Will present my win in upcoming Uttar Pradesh polls as a gift to him: 'Emotional' Akhilesh Yadav during meeting with loyal MLAs
* Lalu Prasad Yadav speaks to Mulayam Singh Yadav, asks him to stay united to fight communal forces
* Azam Khan not to attend Mulayam Singh Yadav's meeting at party office or Akhilesh Yadav's meeting; instead he will try to resolve issue: Sources
* Ram Gopal Yadav present at Akhilesh's official residence, 5, Kalidas Marg
* In a fresh twist, the mobile phones of all these MLAs were deposited with the security personnel.
* 200 leaders including MLAs (190), MLCs attend meet at Akhilesh's residence
Dheere dheere karke SP se gunde tatv door ho rahe hain aur Akhilesh ji ek established leader ban kar ubhrenge:Satyapal Singh,BJP MP pic.twitter.com/uTMNuaD2OV

— ANI UP (@ANINewsUP) December 31, 2016
Vishvaas hai maamla sulajh jayega jaldi.Hum adhyaksh netaji aur mukhyamantri ji dono ki bohot izzat karte hain:Veena Patel,SP candidate pic.twitter.com/ismVSY7KDT

— ANI UP (@ANINewsUP) December 31, 2016
WB CM Mamata Banerjee spoke to Akhilesh Yadav, wished him well and asked him to stay strong: Sources

— ANI UP (@ANINewsUP) December 31, 2016
Toh ye paarivarik drama lagta hai kyunki Modiji is aayam pe laye hain rajneeti ko ki gunde pravati ke log rajneet mein na hon:Satyapal Singh

— ANI UP (@ANINewsUP) December 31, 2016
Poora pradesh Akhilesh ji ke saath hai, naujawan,buzurg,mahilayen sab unka samarthan kar rahe hain:Pawan Pandey,SP MLA pic.twitter.com/NK2u8XkWg3

— ANI UP (@ANINewsUP) December 31, 2016
Aaj Uttar Pradesh ka chehra sirf aur sirf Akhilesh Yadav ji hain, vo vikaspurush hain: Gomti Yadav,SP MLA pic.twitter.com/Zv6DN14Vmo

— ANI UP (@ANINewsUP) December 31, 2016
Lucknow: Akhilesh Yadav reaches his residence at 5 Kalidas Marg, will hold a meeting with SP MLAs pic.twitter.com/BNzYeq5kbx

— ANI UP (@ANINewsUP) December 31, 2016
Lucknow: Akhilesh Yadav supporters raise slogans in his support outside CM residence pic.twitter.com/mgwn8uU8bO

— ANI UP (@ANINewsUP) December 31, 2016
Netaji ne kal kaha tha ki agar mukhyamantri apni galati maan lete hain,toh wo is baat ko samaapt karne ka prayas karenge:Madhukar Jetley, SP pic.twitter.com/dES9ZPYuBM

— ANI UP (@ANINewsUP) December 31, 2016
Jab 2012 mein unko (Akhilesh Yadav) CM banaya tha, tab dono ne hi kalpana nahin ki thi ki ye din dekhna padega: Madhukar Jetley on SP feud pic.twitter.com/kFBgfswkZB

— ANI UP (@ANINewsUP) December 31, 2016