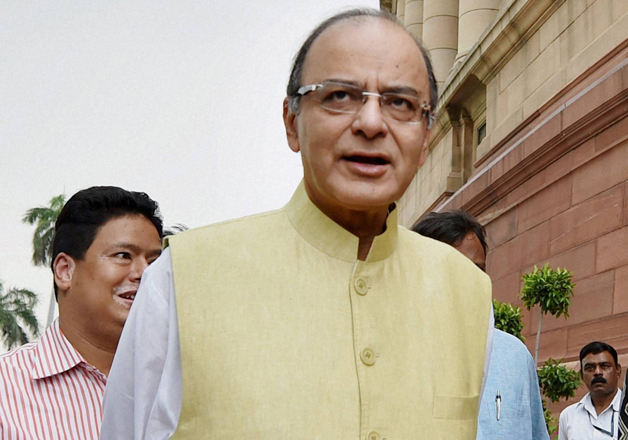 A day after the Union Cabinet approved changes in the GST Constitutional Amendment Bill, the government today reached out to leaders of several opposition parties, including Congress and Samajwadi Party seeking their help to ensure the passage of the legislation in the Rajya Sabha next week.
Sources said that Finance Minister Arun Jaitley separately met leaders of Congress, Left parties, Samajwadi Party and JD(U) and discussed with them provisions of the GST Bill.
"Talks are on with various parties on GST," a senior government functionary said.
The sources said Jaitley met Leader of Opposition in the Rajya Sabha Ghulam Nabi Azad and former Finance Minister P Chidambaram in the Central Hall of Parliament. He also met the deputy leader of Congress in Rajya Sabha, Anand Sharma.
Besides, Jaitley met SP leader Ram Gopal Yadav and CPI(M) general secretary Sitaram Yechury.
Prime Minister Narendra Modi also held discussions with Yadav when the Rajya Sabha was adjourned briefly during the Question Hour. Modi remained seated in the House during the brief adjournment and spoke to Yadav and another SP member Neeraj Shekhar.
The Business Advisory Committee of the Rajya Sabha will meet at 4 PM to discuss the agenda for the coming week. The government is working to address the concerns raised by opposition parties, including Congress, on the Constitution (122nd Amendment) Bill, known as the Goods and Services Tax (GST) Bill.
Yesterday, the Union Cabinet cleared changes in the GST Bill, dropping 1 per cent manufacturing tax and providing guarantee to compensate states for any revenue loss in the first five years of rollout of the proposed indirect tax regime. The Cabinet, headed by Prime Minister Narendra Modi, decided to include in the Constitutional Amendment Bill that any dispute between states and the Centre will be adjudicated by the GST Council, which will have representation from both the Centre and states.
The changes approved by the Cabinet are to the Constitutional Amendment Bill that was approved by the Lok Sabha in August last year. Once the Rajya Sabha approves the legislation, the amended Bill will have to go back to the Lok Sabha again for approval.
The Bill seeks to introduce a system for uniform taxation across the country and has been pending for a long time.
With PTI Inputs