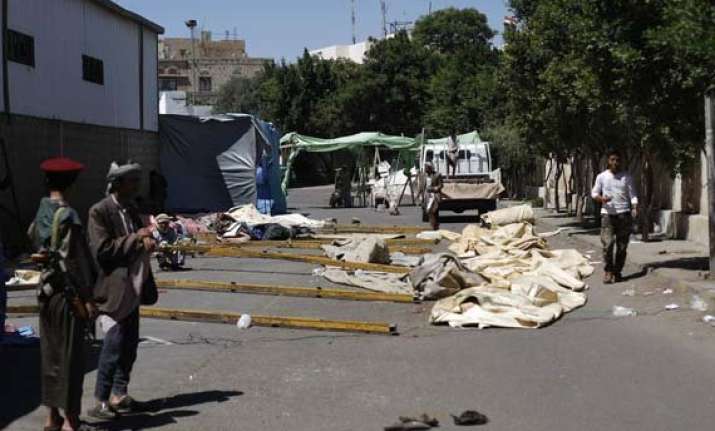 Sanaa: Yemen's empowered Shiite rebels attacked the home of a rival Islamist politician south of the capital on Saturday, setting off clashes that left 12 people dead, security officials said, adding that the politician was not home at the time.
The officials said Shiite rebels and allied fighters attacked the home of a local politician from the rival Islamist Islah party, killing two of his relatives in the town of Yarim, an Islamist stronghold in the Ibb province south of Sanaa. The ensuing clashes left eight rebel fighters and two bystanders dead.
Another four rebels were killed when a roadside bomb struck a convoy bringing reinforcements to a battle with Sunni conservative tribesmen raging in both Yarim and the provincial capital, also called Ibb.
The Houthis had advanced on Ibb city on Friday, setting of fierce clashes. A brief cease-fire collapsed.
Following the unrest, the security chief of Ibb resigned in response to a demand by the Houthis. On Saturday, the local governor asked the deputy security chief to replace him, a local government official said.
The official said Governor Yahia al-Iryani was meeting with rebel representatives, who were demanding that popular committees take part in securing the province along with military forces to fill in the security gap. Fighters allied with the Houthis were meanwhile deployed in the northern part of Ibb.
In a separate incident, officials said eight people were killed in clashes between al-Qaida militants and the Houthis, who are fighting to maintain control of the city of Radaa, in the central province of Bayda, also south of the capital.
The Houthis seized control of the city a day earlier. Scores of families fled the fighting in Radaa, which died down after midday today.
All officials spoke on condition of anonymity because they were not authorized to speak to the media.
The Houthis gained control of the capital Sanaa in September, and earlier this week they overran a key Yemeni port city on the Red Sea.
They have signed a peace agreement with the embattled central government to nominate a new Cabinet and end the fighting, but have simultaneously pressed their offensive, pushing into cities and towns south of the capital.
The rebels claim they are responding to calls by local residents who want them to drive out corrupt officials.