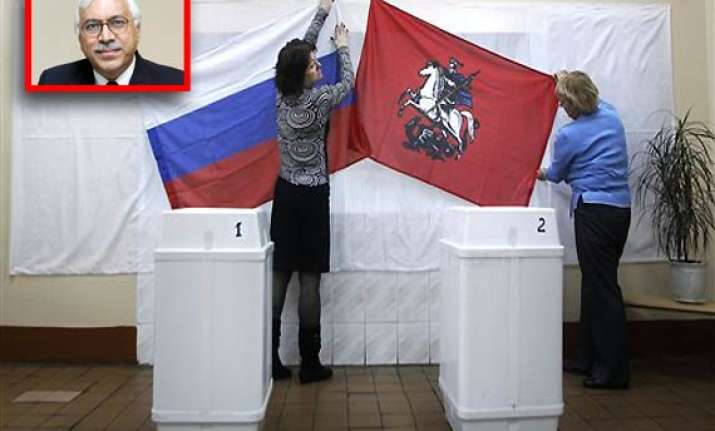 Moscow, Dec 3: As Russia prepares for tomorrow's Duma polls to elect sixth post-Soviet parliament of the country, India's Chief Election Commissioner S Y Quraishi will be one of the many foreign monitors observing the election process. 

Quraishi is on a five day visit here at the invitation of his Russian counterpart Vladimir Churov and is also accompanied by his EC Director General Akshay Rout. 

In all Russia has hosted over 700 foreign monitors to observe the poll process in the country, even as the authorities cracked down on a US-funded marginal NGO 'Golos', projected by the Western media as an independent election watchdog.

It was fined 30 thousand roubles (about Rs 50,000) by a civil court allegedly for indulging in smear campaign against United Russia and some other parties, which is banned in the election law.

Lawmakers from the ruling United Russia party, the ultra-nationalist Liberal Democratic Party (LDPR), and the A Just Russia party made a formal request to the Prosecutor General's Office to look into Golos' payroll. 

Golos said it was part of a broad government campaign to discredit non-profit groups promoting human rights and democracy ahead of the December 4 parliamentary elections, which could see United Russia lose its two-thirds majority. 

The move came only days after Prime Minister Vladimir Putin accused "representatives of some foreign countries" of using NGOs to "influence the course of the election campaign".

Putin signed a law in 2006 giving the authorities far-reaching powers to monitor NGO activities and finances - a move that was widely seen as an attempt to prevent a Ukrainian-style "colour" revolution in Russia. 

Golos director Liliya Shibanova had to spend whole last night at the Moscow Sheremetyevo international airport on arrival from Warsaw as the customs wanted to impound her laptop.

She was released only after giving up the computer, suspected of containing "highly dangerous software" Interfax news agency reported.