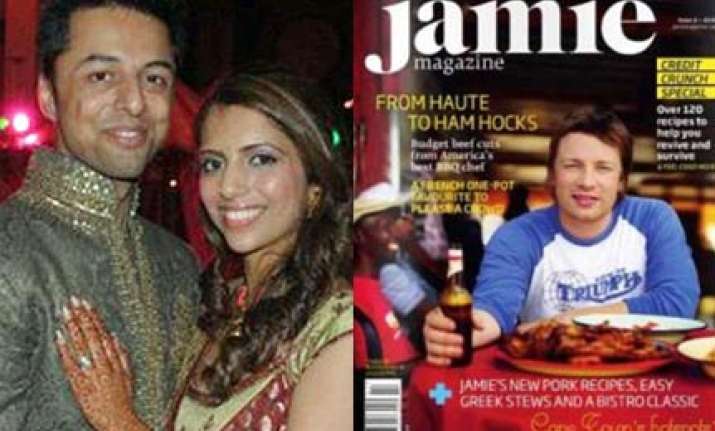 The wife of a Hindu British tourist has been murdered on honeymoon in South Africa by armed robbers who hijacked the taxi she and her husband were travelling in, the Daily Mail, London reported.
Anni Dewani, 28, was two nights into the holiday with millionaire businessman Shrien Dewani, 30.
The newlyweds were driving to their hotel at 11pm on Saturday when their taxi was stopped by two men in one of Cape Town's impoverished townships.
After forcing the driver out, the robbers sped off with the terrified couple, who were married only two weeks ago.
An hour later, they released Mr Dewani unharmed about five miles from the hijack scene after robbing him.
His wife's body was later found in another of Cape Town's slums, slumped on the back seat of the abandoned minibus. Unconfirmed reports suggested she had been shot.
The couple are from Bristol, where last night Mr Dewani's family created a Hindu shrine to his wife at their detached house in an upmarket suburb.
Distraught relatives gathered to pray and comfort each other.



Mr Dewani's brother Preyen said: 'We are devastated. We are still in shock. The body is being taken to the morgue as I speak.'
Last night police in South Africa gave more details about the tragedy. Colonel Andre Traut said Mrs Dewani and her husband, who runs a string of nursing homes across the South West, had spent the day touring the Cape region's vineyards.
They then had supper at a restaurant in the upmarket suburb of Somerset West, 30 miles from Cape Town.
Their route back to central Cape Town would have taken them past some of the city's ramshackle townships, which house many of the city's poorest black population.



While the townships are generally considered no-go areas for tourists, some of their restaurants and bars have gained a reputation as lively places to eat and drink.
It is believed that, as they drove past the Guguletu township, the couple decided to take a diversion into the area to experience the nightlife.
They may have become lost trying to find Mzoli's Meat, an outdoor barbecue restaurant and bar which bills itself as an 'authentic taste of township life'.
TV chef Jamie Oliver visited it last year. But Colonel Traut said the taxi was waved down by the gun-toting men.



He said Mr Dewani, who has relatives in South Africa, was released from the taxi in the nearby Harare area, adding: 'After seeking the assistance of a passing motorist, he was taken to Harare police station unharmed.
'An extensive search for the vehicle and the female victim resulted in the discovery of the hijacked vehicle, with the female victim's body on the back seat. An autopsy will later reveal the exact cause of her death.'
Local guesthouse owner Liziwes Ngcokoto said: 'The cops said they badly wanted to catch who did it and lock them up. I hope they are caught soon.'