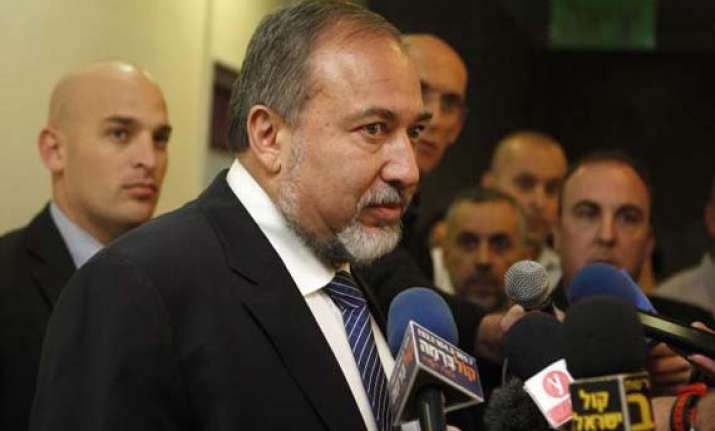 Jerusalem, Dec16: Israel's ultra-nationalist Foreign Minister Avigdor Lieberman resigned on Sunday over prosecutors' decision to charge him for fraud and breach of trust.
Mr Lieberman's resignation would go into effect on Tuesday, but he hasn't resigned from his Knesset (Israeli parliament) seat.
54-year-old Lieberman, also the deputy Prime Minister, announced on Friday that he would quit to fight the charges levelled against him.
He denies any wrongdoing in the case, which involved an Israeli diplomat who was promoted after leaking information to him about a police investigation into his activities.
"As you know I have no concerns," he said after submitting his resignation letter to Prime Minister Benjamin Netanyahu.
Mr Lieberman is hoping for a swift trial that would allow him to return to office after the January 22 general elections.
"Overall I had a fascinating four years at the government and Foreign Ministry. I enjoyed working with the Prime Minister (Netanyahu) and the government. Naturally there were ups and downs, but all in all it was truly a fascinating time," he said after tendering resignation.
"I am saying goodbye temporarily. As you have noticed I have been in this office, on this floor since 1996. I suppose the break will be very brief this time," said the Yisrael Beteinu party Chairman, whose party is contesting elections on a joint list with Mr Netanyahu's ruling Likud party.
Expressing his desire to focus on the election campaign, Mr Lieberman said, "I have no concern. The only concern I have is for the voting public."
He also rejected claims in some media that he would go for a plea bargain to spare him of any charges of "moral turpitude" so that he can return to office.
"The plan is not to go for a plea bargain, but to get to court. A trial is the right way," he said.
Although Mr Netanyahu's rightist party alliance is expected to return to power, opinion polls have recently shown a massive dip in electoral support for the Likud and Yisrael Beteinu's joint list.