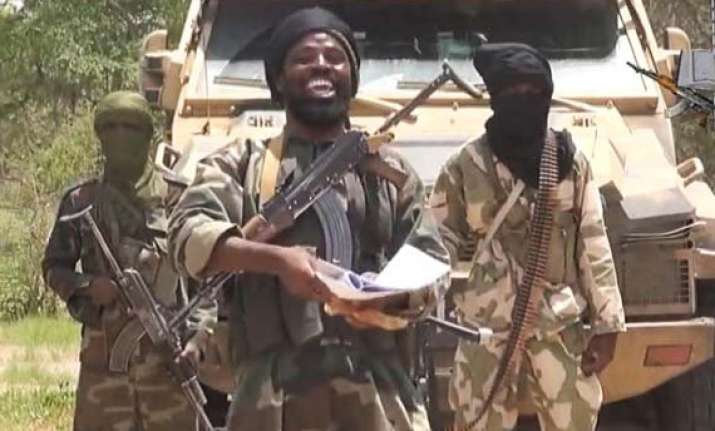 Abuja:Nigeria today claimed to have reached a deal with Boko Haram militants on a ceasefire and the release of more than 200 kidnapped schoolgirls but doubts immediately surrounded the purported breakthrough.
Chief of Defence Staff Air Marshal Alex Badeh told senior military officials from Nigeria and Cameroon meeting in Abuja that a "ceasefire agreement" had been concluded between the government and the insurgents.
"I have accordingly directed the service chiefs to ensure immediate compliance with this development," he added.
Badeh's announcement came after a senior aide to President Goodluck Jonathan, Hassan Tukur, told AFP an agreement to end hostilities had been reached following talks, as well as for the release of 219 girls held captive since April.
But a precedent of previous government and military claims about an end to the deadly five-year conflict and the fate of the missing teenagers left many observers cautious.
Jonathan is also expected to declare his bid for re-election in the coming weeks, with positive news about the hostages and the violence likely to give him a political boost.
Shehu Sani, a Boko Haram expert who has negotiated with the group on behalf of the government said had "never heard" of Danladi Ahmadu, whom Tukur claimed represented the militants at talks.
Ralph Bello-Fadile an advisor to Nigeria's National Security Advisor (NSA), said the NSA has been inundated with fraudsters claiming to represent Shekau.
"Government wants to negotiate but so far nobody has come forward who speaks for Shekau," he told a Chatham House conference in Abuja on Monday.
The Nigerian government's own security spokesman, Mike Omeri, also said that no deal had yet been reached on releasing the girls.
Tukur said he represented the government at two meetings with the Islamists in Chad, which were mediated by the country's President Idriss Deby.
"Boko Haram issued the ceasefire as a result of the discussions we have been having with them," said Tukur, adding that Ahmadu made the announcement on Thursday evening.
"They have agreed to release the Chibok girls," he continued, referring to the girls seized in northeast Nigeria on April 14, causing global outrage.
Leaders of the Bring Back Our Girls campaign, which has been pressuring the government to act, gave a cautious welcome to a possible release.