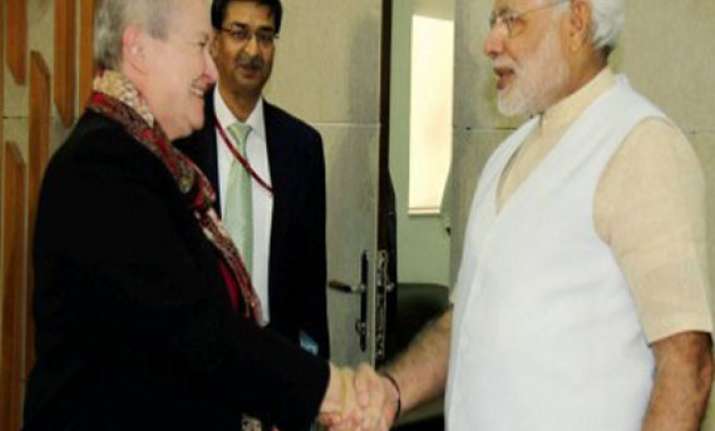 Washington: Bharatiya Janata Party leader Narendra Modi's likely elevation as the next Indian prime minister has put the US in a quandary - how to mend fences with a man it has shunned for years without losing face.
Various US functionaries have twisted themselves into knots time and again to suggest that America is ready to do business with a new leader with any label chosen by the Indian people, while acting cagey on the issue of a visa for Modi.
The formulation seems to be that Modi, the man whose business visa in 2005 was denied for his alleged role or inaction during 2002 Gujarat riots, is still unwelcome, but Modi as prime minister would be another matter.
State Department spokesperson Jen Psaki for one Tuesday once again sought to make a distinction between an individual and an office.
Heads of state and heads of government are eligible for A1 visa classification under the Immigration and Nationality Act 1952, she said.
But "No individual automatically qualifies for a US visa," she insisted though "US law exempts foreign government officials, individuals - including heads of state and heads of government for certain potential inadmissibility grounds."
Back to the issue of a visa for Modi if he becomes prime minister, Psaki still declined "to speculate on that" but hastened to add that "We're looking forward to working with the new Indian government when they're elected."