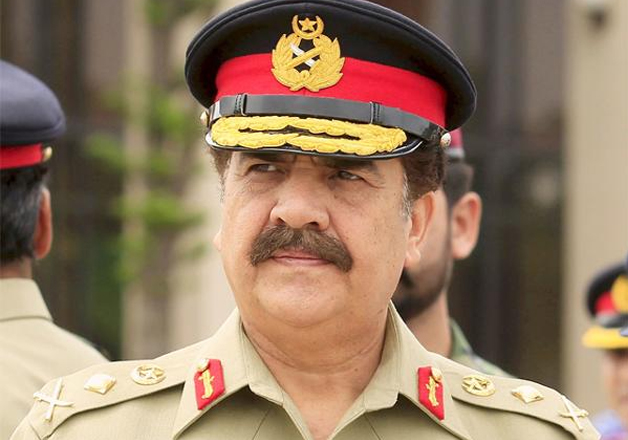 Pakistan's media went into a frenzy following a tweet by the military's public relations wing stating that powerful Army Chief General Raheel Sharif had kicked off his farewell visits on Monday, thus ending months of speculation over the army chief seeking an extension of his tenure that ends later this month. 
General Asim Bajwa's tweet also triggered a debate in media over the likely replacement for Sharif in what is seen as the most powerful seat in the Islamic nation.
On Monday, the Chief of Army Staff, in his first farewell visit, met the soldiers and personnel of rangers in Lahore. He is due to demit office on November 29.
 "COAS kicks off his farewell visits beginning from Lahore today. Meets, addresses, thanks huge gathering of soldiers of Army and Rangers at Garrison-1," Bajwa said in a tweet.
Several reports say that the decision to quit sends a positive message as the country has seen only three army chiefs in last 18 years, which in itself shows the kind of clout an army chief enjoys in Pakistan.
Pakistan's Dawn lauded Sharif's decision and expected the next army chief to follow in his footsteps.
"Now, a fourth general will assume command next week and hopefully he will build on the commendable example set by Gen Sharif and will abide by the institutional norm of a single three-year term for an army chief. Certainly, Gen Sharif will be a hard act to follow," says Dawn in an editorial.
As The Express Tribune editorial put it: "A tweet from the Director General ISPR set the media ablaze but settled a raging debate."
Referring to the fact that Pakistan has seen just three army chiefs in as long as 18 years, the Tribune's editorial elaborated on why there was such a "raging debate" to begin with.
"It is a reflection of the perennial civil-military tug-of-war in Pakistan that the retirement - or possible extension for that matter - of an army chief becomes one of the most pressing political issues of the time. This is not surprising in a country that has seen numerous army chiefs extend their terms in office either through an extension or via an outright military takeover. Pakistanis are justified in being nervous, more so when the civil-military relationship boils over into thinly-disguised tensions," the Tribune's editorial said.
Another newspaper, The Nation, expressed similar sentiments.
"The announcement of his retirement came way back in January ... yet, come November, the COAS (chief of army staff) has surprised many by sticking to his word and not seeking an extension to his tenure at the head of the armed forces," said The Nation's editorial.