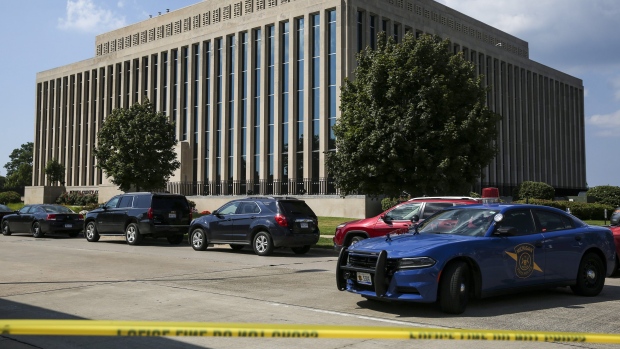 Michigan: Two court bailiffs were shot dead and some others injured during a scuffle with a prisoner turned gunman inside a courthouse in the US state of Michigan, media reports said.
The shootout occurred yesterday afternoon outside the Berrien County courthouse in St Joseph, Michigan, in which the two bailiffs were killed, Sheriff Paul Bailey said, adding the suspect attacker was also gunned down, CNN said.
"At about 2:25 (p.m.), we had a disturbance on the third floor of the courthouse. A person has shot two bailiffs, they are both deceased," Berrien County Sheriff Paul Bailey said in a news conference.
Bailey said the shooter was a prisoner who took a gun from one of two bailiffs escorting him to a courtroom in the St. Joseph courthouse, and then began shooting as he tried to escape from custody.
"Our hearts are torn apart. They were our friends," Bailey told reporters. "It's a sad day."
A sheriff's deputy was also shot and several civilians were injured, Bailey said. They have been hospitalised, he said.
"The courthouse is secured and the scene is rendered safe. No further victims are involved," Bailey said.
Michigan Governor Rick Snyder said police have secured the incident spot and started probe into the shooting.
"MSP has secured the scene at the Berrien County courthouse and started its investigation into the shooting that occurred this afternoon," he said in a tweet.
"I'm en route to St. Joe for a briefing on the situation in Berrien County from Sheriff Bailey. Please keep those affected in your prayers. (sic)," Snyder said in another tweet.
Last week five police officers were killed in Dallas by an Army veteran "protesting" the fatal police shootings of two black men in the US states of Louisiana and Minnesota.
(PTI inputs)