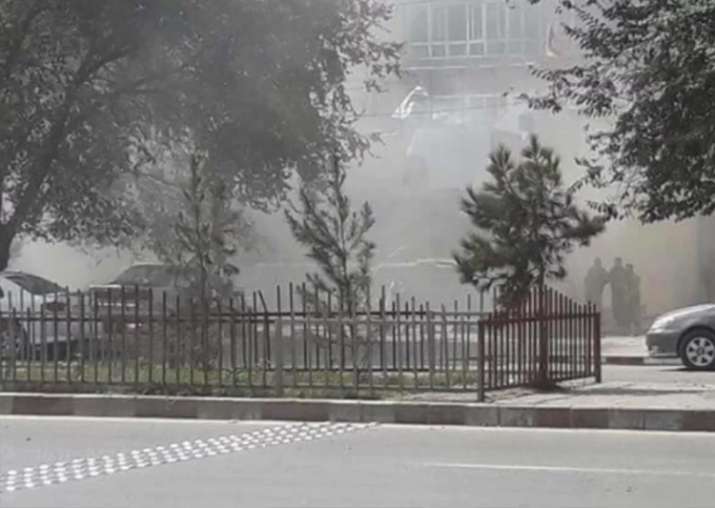 An explosion was reported in Afghanistan's capital city of Kabul this morning. According to media reports, the area where incident took place houses the US Embassy. 
An Afghan officials said that at least five people were killed in the blast. Reports suggest that a suicide bomber detonated explosives after being spotted by guards near Massoud Circle in the city.
Basir Mujahid, spokesman for the Kabul police chief, said that today's explosion likely targeted a branch of the privately owned Kabul Bank. The US Embassy compound is located about 500 meters (yards) down the road from the Kabul Bank. 
Mohammad Salim Rasouli, chief of Kabul hospitals at the Health Ministry, confirmed that the attack also wounded nine people.
Emergency personnel rush wounded blast victims to hospital after #Kabul explosion. pic.twitter.com/BZTqQMzpgZ

— TOLOnews (@TOLOnews) August 29, 2017
"Death toll could increase once rescue operation picked up pace," the Health Ministry official added.
A spokesperson for Interior Ministry confirmed the news. "An explosion has happened near Massoud Square in Kabul. We have no more details yet."
No one claimed responsibility for the bombing, but the Taliban often target banks, especially at the end of the month when civil servants and military personnel line up to receive their salaries, or ahead of major Muslim holidays.
Last Friday, at least 20 people were killed and more than 50 were wounded in the hours-long siege of a Shiite Muslim mosque in the Kabul. The mosque was packed with worshippers attending Friday prayers when the incident had taken place. Terror group Islamic State affiliate in Afghanistan had claimed responsibility for attack.