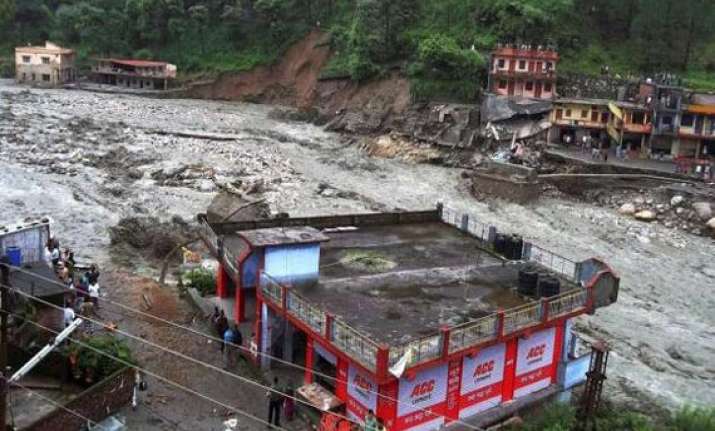 Kapkot, Uttarakhand, Aug 1 : Heavy downpour resulting in cloudburst caused massive damage to property, swept away a child and injured three others while four members of a family were reported missing in Uttarakhand on Wednesday.
The thundershowers buried the Kapkot block in Bageshwar district in silt. Cotinuous downpour washed away houses and livestock.
Mechanized earthmoving vehicles (JCBs) , were deployed to clear debris.
Rescue workers were seen engaged in salvage operations including efforts to trace the missing persons.
District authorities claimed that the injured have been shifted to the hospital.
"We are looking for four members of a family. We have rescued two persons in the morning; a child has been swept away. Three persons are in hospital. A woman has been referred to elsewhere otherwise the treatment for others is fine. Now we are trying to recover the bodies. We are providing aid to the victims near the site," said District Magistrate of Bageshwar, B. S. Manral.
Meanwhile, relatives of the family whose members went missing reached Kapkot.
"It started raining from yesterday evening. We came to know and we came here in the morning looking for my uncle and his family. Due to cloudburst, a house of my uncle has been swept away and also 15 to 20 sheep and four to five cows of his livestock," said Romila, relative of the missing family.