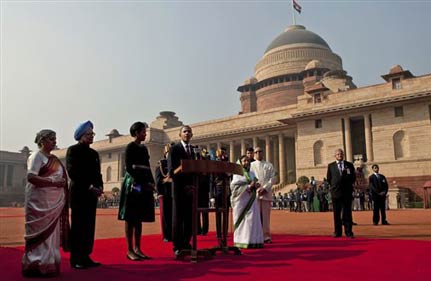 New Delhi, Nov 8 (PTI) Terming the visit of US President Barack Obama as a "historic milestone", President Pratibha Patil tonight said both the US and India have profound responsibility to work together for peace, stability and security in the world.
In her speech at the banquet hosted in honour of Obama and his wife Michelle, the President said there were many ties that bound the two nations together.
"Nearly three million people of Indian origin in the US act as a bridge of friendship, including over 1,00,000 Indian students in the US, who along with the growing number of young Americans coming to India, are sowing the seeds of future partnerships.
'Our enterprises, scientists, engineers, technologists and academics are creating partnerships that generate hope for the future," she said.
She said the efforts to make world more prosperous were not possible without making "our people safer" and added that "as democracies, we have a profound responsibility to work together for peace, stability and security in the world.
"We must continue our joint efforts to reform global institutions to reflect contemporary realities, and increase their effectiveness in meeting current challenges.
"This is a time of great challenges in the world, but never has the opportunity been greater, the environment better, and the need more urgent for our two countries to work together and lead global efforts to seek a safer, more prosperous and more sustainable future, full of goodwill for this world," she said.
The President said that the two countries had built a strong strategic partnership on "the solid bedrock of shared ideals and common interests.
"The historic civil nuclear initiative is an instrument and a symbol of our transformed relations. But, across virtually every field of human endeavour, we have explored new frontiers and redefined and paradigm of cooperation," she said at the banquet hosted in the sprawling lawns of Mughal gardens.
She said, therefore, the two countries have enormous potential to work together for a sustainable and inclusive global economic development, to address the challenges of infrastructure, clean energy, food security and health security, and educate and empower the youth especially women.
'Our two nations are well placed to harness the power of innovation, not only for technological leadership and global competitiveness, but also as a tool for economic empowerment and social transformation," she said.
Patil expressed her pleasure about the initiatives announced which will not benefit only people of the two nations but also fulfil resposnsibility to humankind.