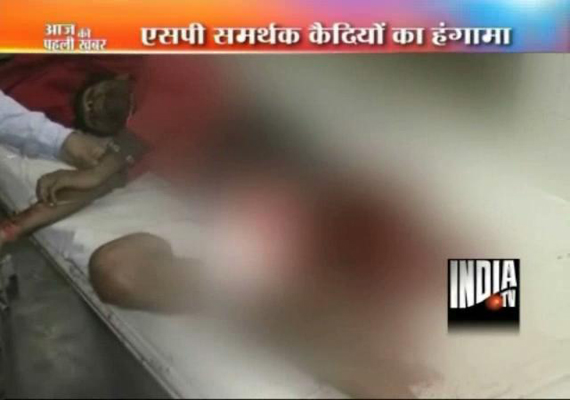 Basti, UP, March 11; In a violent clash inside the Basti district jail here on Saturday, two prisoners were killed and seven others including two warders were injured.
 
The clash took place between Samajwadi Party workers, said to be  supporters of Mukut Mishra, the local SP don arrested for murder, and the warders.
 
Officials said, Mukut Mishra had ordered his supporters to kill the jailor outside the jail, but the officials came to know about it. After arresting the suspects, they were brought into the jail, and that was when the clashes began.
 
For nearly three hours, the  prisoners ransacked the jail, and firing continued between the unruly  prisoners and jail staff.
 
The DIG, SP and almost all senior district officials rushed to the jail. The prisoners also undulged in arson, and three fire engines had to rush to the spot.
 
After a heavy police contingent was brought, the mutineering prisoners were overpowered and thrown inside their cells.
 
Injured prisoners told mediapersons that the clash began when police began to beat up two new prisoners inside the jail.
 
Two prisoners, Sushil Singh and Sonu Singh, were killed in the firing.