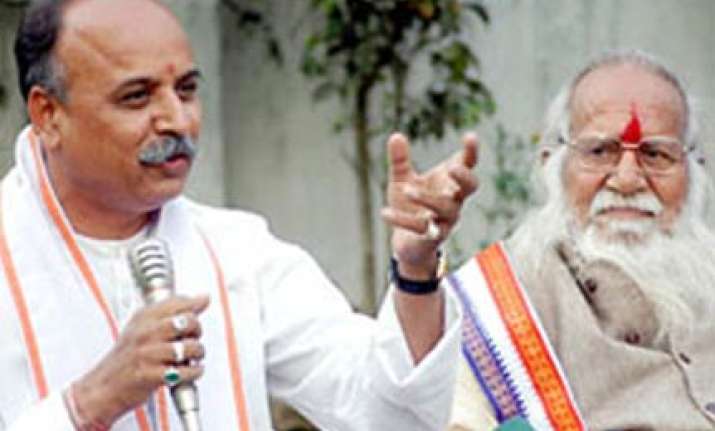 The district administration of Kandhamal, in Orissa which has been violence-free for about a year, on Tuesday decided not to allow VHP leader Pravin Togadia to visit it.
"We will not allow VHP leader Pravin Togadia to visit Kandhamal as the administration does not want to take any risk though things are in good shape," district magistrate-cum-collector Krishna Kumar told PTI over phone.  "The situation is absolutely normal in the district now," he said.
The state unit of VHP had earlier informed the home department regarding Togadia's proposed three-day visit to Orissa.
Togadia is scheduled to begin his visit from March 18 and visit Kandhamal the next day and spend the night at Phulbani, the district headquarter of Kandhamal, VHP state secretary Gouri Prasad Rath said. "It is illegal as well as undemocratic to put restriction on visit of Togadia," he said reacting to the Kandhamal district administration's decision.
The state government and Kandhamal district authorities had "spread the red carpet" to diplomats from European countries and it is "unfortunate" that they will not allow Togadia, Rath said.Togadia was allowed to visit Chakapada ashram in Kandhamal and pay respects to the slain VHP leader Swami Laxamananda Saraswati on August 25, 2008.
Saraswati, whose killing sparked a large scale ethno-communal violence in Kandhamal and elsewhere in the state, was killed on August 23, 2008.
"Togadia's visit immediately after Saraswati's killing escalated violence in Kandhamal. Therefore, it is not wise to allow him again, particularly when the situation has turned normal," police said. Besides, Kandhamal, Togadia was scheduled to visit Nuapada, Bargarh and Ganjam district.
Bargarh district also witnessed communal violence after Saraswati's killing. A woman was burnt alive at an orphanage in Bargarh district. PTI