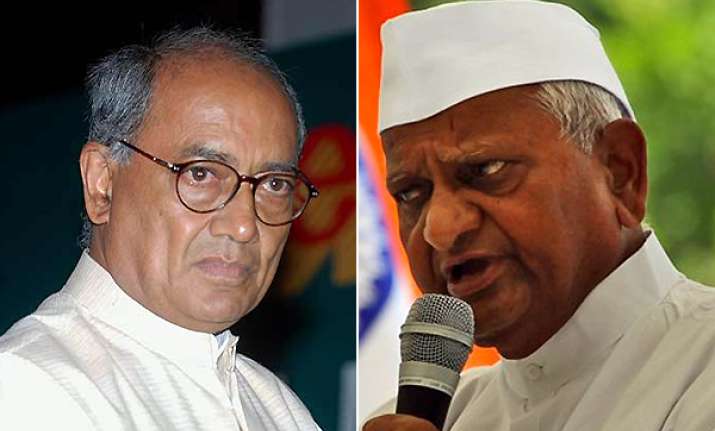 Lakhimpur Kheri (UP), Dec 27: Congress leader Digvijay Singh on Monday accused Team Anna members of forcing Parliament to concede to their diktats, risking its supremacy to enact laws, and dared them to contest the next general elections.

"Let Team Anna explain which was the right Lokpal. Is it that what they say is only right and what other say is all rubbish," the Congress general secretary said while interacting with mediapersons here on the eve of Anna Hazare's fast on Lokpal issue.

"Parliament has the right to enact laws and Anna Hazare, Kiran Bedi and Arvind Kejriwal ji should first contest elections and then do what they wish," Singh said.

He said it is "improper and detrimental" to the prestige of Parliament to force it "to concede to their diktats".

Wishing "speedy recovery" to Hazare, who was suffering from cold, Singh said, "Anna Ji is an old man and his team members are bent upon keeping him hungry".

Union Minister Sriprakash Jaiswal also sharply criticised Hazare for his threat to hold dharna before Congress president Sonia Gandhi's residence.

"In a democratic set up, every citizen has the right to agitate and hold fast. If anyone violates the law, the law will take its own course," Jaiswal said.  Union Minister Jitin Prasada said the UPA was committed to give an effective Lokpal to the people of the country.