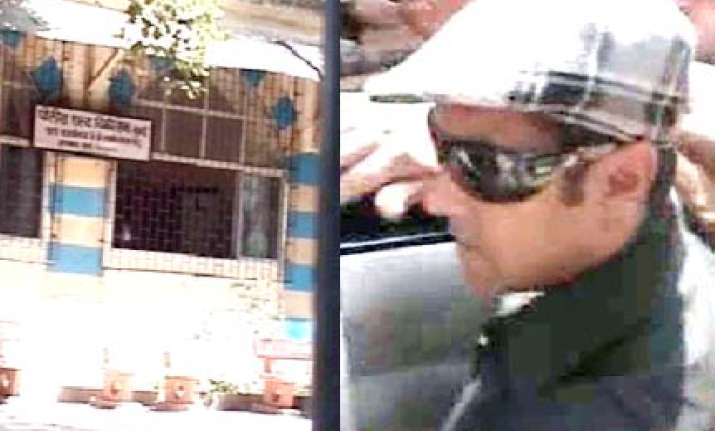 Actor Salman Khan on Thursday appeared before a special court in Mumbai as a prosecution witness and deposed against gangster Chhota Shakeel's henchman Anjum Fazlani.
According to the prosecution, Fazlani had threatened Salman to reduce his fee for producer Nazim Rizvi's movie 'Chori Chori Chupke Chupke' (2001) or face dire consequences.
Salman, clad in a black shirt and cream trousers, stood in the witness box for over half an hour and calmly answered all the questions put forth by the public prosecutor.
The actor told special MCOCA Judge M P Kukday that he was approached by Rizvi and assistant producer Abdul Rahim Allahbaksh with an offer to play the lead role in the movie.
"I agreed to the offer but on the condition that the movie should be directed by a well-established director. Rahim wanted to direct the movie himself, but then agreed and the movie was directed by Abbas-Mastan," Salman told the court.
Salman, however, said he does not remember Fazlani and that he might have met him once or twice.
The prosecution's case is that the film released in 2001 was financed by diamond merchant Bharat Shah at the behest of Chhota Shakeel. Shah, Rizvi and Rahim were charged and faced trial under the stringent provisions of MCOCA and other sections of IPC.
In 2003, Rizvi and Rahim were convicted under MCOCA. Shah was acquitted under MCOCA, but was held guilty under IPC.
At that time Fazlani was untraceable and was declared as an absconding accused. In 2006, Fazlani was deported from Dubai.
Salman had also deposed as a witness in the trial against Shah and Rizvi, but later had turned hostile. Several actors like Shah Rukh Khan, Preity Zinta, Rakesh Roshan and Mahesh Manjrekar had deposed in the trial against Shah and Rizvi.
However, all the actors except Preity, turned hostile. PTI