Follow us on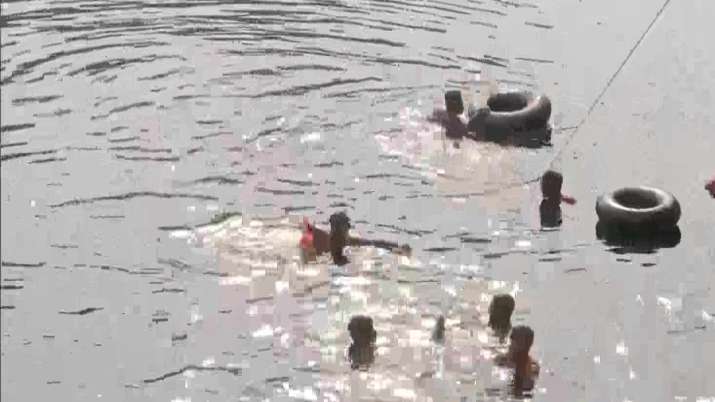 Suspended Mumbai cop Sachin Vaze, who is accused in the Mansukh Hiren's death case, on Sunday confessed to National Investigation Agency (NIA) that some pieces of evidence were thrown into the Mumbai's Mithi river, after pieces of evidence like Computer CPU, DVRs, other items were recovered by NIA divers from the river.
As part of its investigation, earlier in the day, NIA took Sachin Vaze to Mumbai's Mithi river site and discharged divers into the muddy waters to search for evidence. Vaze is accused of destroying the evidence in the Mithi river.
Upon reaching the Mithi river spot, the NIA team discharged cleaning personnel in the muddy waters to search for evidence. The team recovered a computer CPU, number plate of a vehicle, DVR hard disk, router and other items from the river.
The NIA team is also video-graphing the entire probe activities in the river. A team of 11 divers is involved. At around 3.15 pm, the NIA team reached Mithi River with Sachin Vaze.
As per reports, the CPU recovered from the Mithi river resemble those found in government offices. So far, a total of 11 items have been recovered from the river. 
On being confronted with circumstantial evidence, accused Sachin Vaze confessed that some pieces of evidence were tossed into Mumbai's Mithi river, ANI quoted NIA sources as saying.
As the search for evidence is still on, NIA divers recovered another computer CPU, a laptop, two number plates with same registration number on them, and among other items.
The recovered DVRs are of his housing society where the Scorpio car was parked between Feb 17-Feb 24, of shops where various number plates were made and of other places where Vaze suspected that his movement could have been captured, NIA sources said.
These pieces of evidence recovered today from Mithi river were in Vaze's custody till the time of Mansukh's death, NIA sources added.
The evidence fished out today will be sent to the Central Forensic Sciences Laboratory for analysis and recovering whatever data possible that could assist the investigations.
The NIA is currently probing the twin cases of planting of a SUV Scorpio with 20 gelatin sticks and a threat note near Antilia, the home of industrialist Mukesh Ambani on February 25, followed by the death of SUV owner, Thane businessman Mansukh Hiran on March 5, sparking a nationwide political furore.
ALSO READ | 'I am being made a scapegoat': Sachin Vaze tells NIA Court