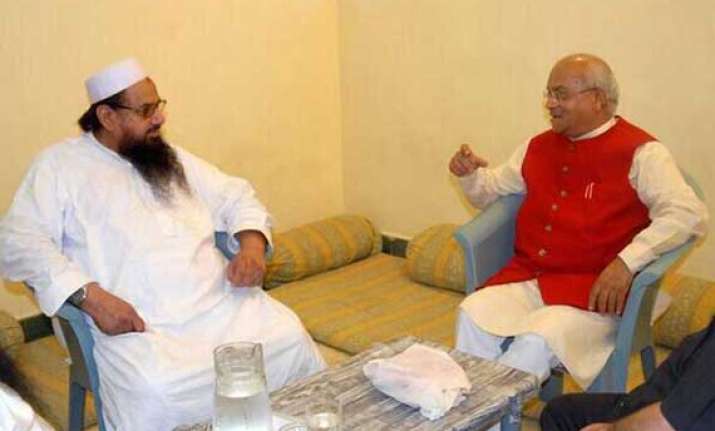 New Delhi: Senior journalist Ved Pratap Vaidik sparked another controversy saying that there is no harm if Kashmir is made an independent nation.   
In an interview to Pakistan's Dawn News, Vaidik pressed for more power to the region, adding that if Kashmiris in both India and Pakistan were ready, then Kashmir could be made an independent country.
"Kashmir should be made independent," said Vaidik in the interview.
He however did a partial U-turn saying he favoured more independence for Kashmir but not secession.
"I have always been in favvuor of azadi (freedom) for the people of Kashmir..Azadi yes and separation no. Kashmiri people should get the azadi same as the people of Delhi," said the Ramdev aide.
Vaidik has already landed in controversy over his meeting with 26/11 mastermind Hafiz Saeed.   
Defending his meet, Vaidik had said that he has been meeting all kinds of people and it was a "simple thing" for him.
"Journalists in Pakistan know me for decades. They made a gesture (about meeting Saeed) to me and I said alright I will meet him. It was no big deal for me. It was a simple thing. For me it was like a normal meeting. I have been meeting the Maoists of Nepal, Taliban of Afghanistan...," he had said.
Vaidik had met Saeed, chief of Jamaat-ud-Dawa, which controls terror outfit Lashkar-e-Toiba, in Lahore on July 2 while touring Pakistan along with a group of journalists and politicians invited by a peace research institute.   
The issue had sparked off a major controversy with Congress targeting Prime Minister's Office saying that the government must have been aware of the meeting in advance.   
On Monday, Congress leaders had raised in Parliament and outside the issue of Ved Pratap Vaidik meeting Saeed, saying the journalist was "very close to Sangh parivar" and rejected the government's contention that it had nothing to do with the meeting.
"Kashmir should be made independent," senior journalist Ved Pratap Vaidik told Pakistani news channel Dawn News, stirring up a fresh controversy.
Vaidik shot to the headlines after realising picture of his meeting with Hafiz Saeed.