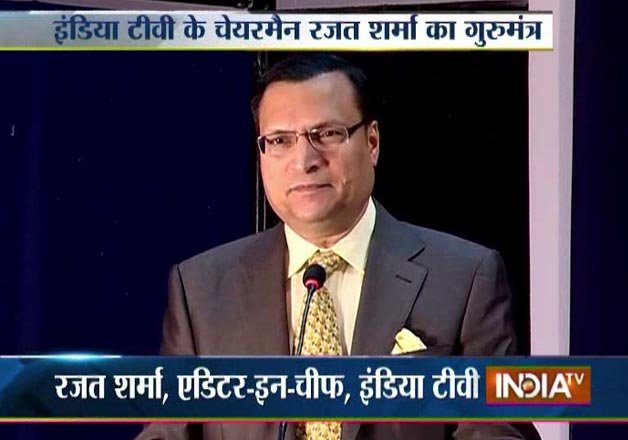 Mumbai: Rajat Sharma, Chairman and Editor-in-Chief of India TV, said that without hard work and discipline it is difficult to achieve your ambition.
The veteran journalist said  this while addressing a workshop on TV reporting and anchoring organized by Rambhau Mhalgi Prabodhini, Mumbai.
"Whatever glamour you see on your TV sets... to achieve this, you have to struggle a lot. At this juncture of my life, I would like to tell you that never be afraid of challenges and difficulties you face," he said. 
He also asked students attending the conference to 'never allow yourself to become arrogant'. 
ALSO READ: President confers Bharat Ratna on Rajat Sharma
"My best wishes to all of you. When you become a renowned anchor or a star of television... always remember your feet should remain grounded. My father used to told me - 'vidya' (education) makes you humble, your humbleness makes you qualified, qualification is key to earn money and money gives you comfort. But one you become egoistic, you will lose everything you achieved," he added. 
Rajat Sharma, 58, is one of India's most powerful editor, also said that one must dream big but should never be afraid of struggle.
ALSO READ: Rajat Sharma ranks 51st in Indian Express' Most Powerful Indian list
"You must dream big... dream of achieving something. There are two types of dreams -- one you see while sleeping and another is which does not let you sleep. I want you to see the dreams which never let you sleep because the country needs young people like you," he said.
Last year, Rajat Sharma was appointed as President of News Broadcasters Association -- the apex body of Indian news channels, News Broadcasters Association.