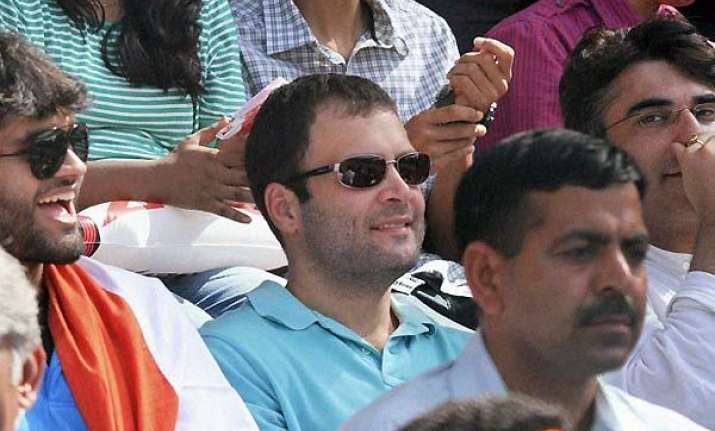 Mumbai, April 4: Congress leader Rahul Gandhi and his entourage suddenly stopped at New Yorker restaurant in Girgaum Chowpatty to have a quick bite while going to the Wankhede Stadium to watch the World Cup final on Saturday, reports Times of India.

In the morning, the restaurant had no customers and the road outside was empty because of the final. Suddenly, Rahul Gandhi showed up.

While going to Wankhede Stadium from the airport, Rahul stopped his convoy at the restaurant.

He along with seven friends spent around 45 minutes at the hotel, having lunch before leaving for the venue half an hour before the match started, the TOI report said.

Restaurant employees said Rahul's security personnel did not allow them to get too close to him after he was served food.

The staffers were trying to capture Rahul's photo on their mobiles while he was eating, but his security staff threatened them that they would seize their phones.

However, while Rahul was leaving, the staffers asked for a photo with him and he called every employee and obliged them with a group photo.

Rahul and his group ordered pizza, pasta and Diet Pepsi, with the bill coming to Rs 2,233, sources said.

Restaurant manager Perumal Pillai said: "I was surprised to see Rahul and his friends contributing money to pay the bill. He was very down to earth and polite. For all of us, it was an unforgettable moment."

There were only four customers in the restaurant and around 10 waiters when Rahul's group came in. Pillai was chatting with a police officer at a table at the time. The officer was facing the road to keep eye on whether one of his seniors came by. The hotel is just a kilometer from Wankhede Stadium and no VIP was expected to stop there.

Suddenly, the police officer rushed out to the road and the next moment Pillai saw Rahul, his friends and bodyguards enter the restaurant.