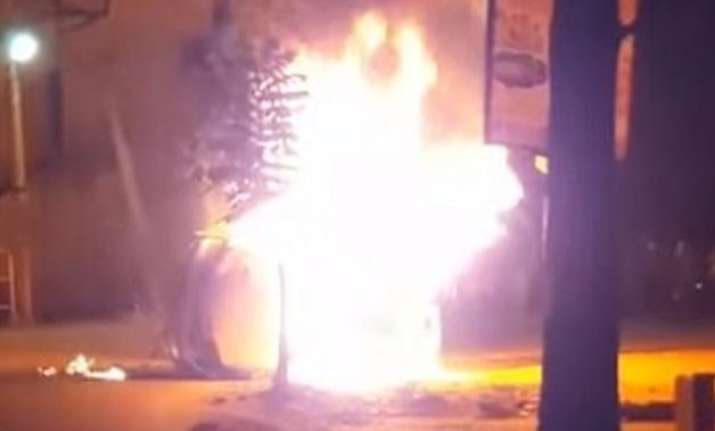 Bengaluru: The Tanzanian girl who became a victim of the mob fury last week,after it mistook her car being involved in a road mishap on the same night, has reportedly said that Police threw her friend back to the corwd when he went for help.
According to a Hindustan Times report, the girl came under attack only after two policemen, who were guarding her, left her side.
"My friend, Hasheem, approached two uniformed policemen who were standing and watching (the attack). The police threw him back into the crowd," HT quoted the victim as saying in a brief conversation at the office of Bengaluru's DCP (north) TR Suresh, who quickly intervened and ushered the woman into his chamber.
Meanwhile, The Ministry of External Affairs on Thursday said that it would send a a high-level team to the Bengaluru to conduct its own inquiry into the the mob attack on the Tanzanian student, who was allegedly stripped, assaultedlast week and to reassure other frightened African student.
The ministry's move comes a day after the Tanzanian envoy to India sent a note verbale and called the attack on a student in Bengaluru "racist".
A team comprising the Tanzanian High Commissioner, two Joint secretaries concerned, and a representative of the Indian Council of Cultural Relations, who provide scholarships for the students, will travel to Bengaluru on Friday, MEA spokesperson Vikas Swarup said at a media brifing.
"We will extend the cooperation of both the Central and State governments and will reach out to the students to reassure them that their security and wellbeing is our primary concern."
The incident has triggered widespread revulsion with many on social media calling it "racial assault"
Karnataka home minister G Parameshwara on Thursday sparked row after he took name of the victim during a press conference.
When a journalist asked him if he was right in naming her, the Home Minister defended his action saying that it is a fact and he can't hide the facts.
The minister said that prima facie reports suggests that the 21 year old Tanzanian student who became a victim of mob fury on Sunday ,was not stripped and paraded naked.
"The alleged assault of a Tanzanian woman in Bengaluru was not a racist attack but the fallout of an earlier road accident," the Karnataka minister said on Thursday.